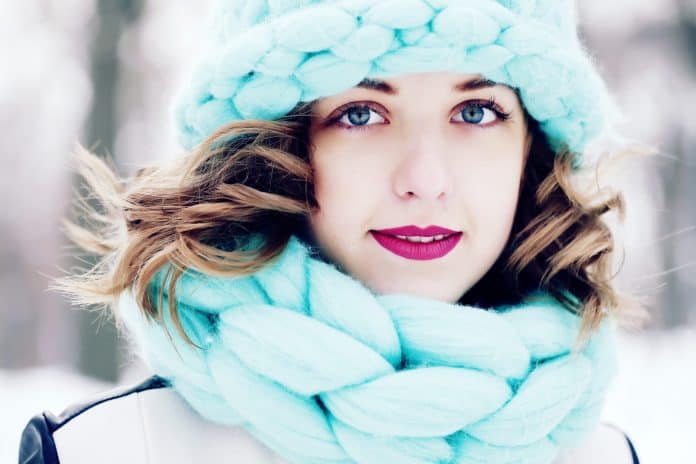 While on the one hand winter can be a time for cuddling up on the couch with a blanket, a hot drink and your favourite book, or a time for displaying your skiing or snowboarding prowess on the slopes, it can also be a tricky time for your skin.
The dry, cold air can leave your skin feeling dry, rough, itchy and flaky – hands up if you've experienced drier skin in the colder months (*raises hand slowly*).
Dermatologist Dr Ryan De Cruz, explains: "Humidity levels reduce considerably during winter, causing our skin to dry out significantly."
"We all want to keep cosy, but extra clothing layers, heaters and hot water bottles can accelerate the skin drying process," he says.
Even though we can't control the elements, we can control how we manage our skin during the winter months.
According to Dr De Cruz, signs of skin dryness include "rough, flaky and sensitive skin that is less supple".
For some, excessive dryness may lead to dermatitis. "Signs of dermatitis, including redness, patchiness, irritation and itchiness, may signal a need to [ramp] up your hydration regime to achieve healthier skin," says Dr De Cruz.
Winter skincare tips
Dr De Cruz suggests the following five steps to achieving health, hydrated skin in winter:
"Use a gentle, soap-free, hydrating cleanser in the shower.
Keep showers and baths to less than six minutes, avoiding very hot water.
Apply moisturiser immediately after showers and baths. A must to ensure optimal hydration.
Wear layers to keep warm; heaters artificially dry the air and our skin suffers.
Drink plenty of water. The skin evaporates water from the body; hence, rehydration is essential."
"Keep your skincare regimen simple," adds Dr De Cruz.
"Less is more when it comes to skincare, and the use of simple cleansers and moisturisers formulated with Ceramides is preferable to complex, fragrances products that may irritate the skin."
What are Ceramides?
Rachel McAdam, Scientific Communications Manager at CeraVe, explains that Ceramides are the skin's "hydration hero".
"Ceramides play a powerful role in keeping the skin hydrated by ensuring water doesn't escape from our epidermis," she explains.
"They also ensure the skin has a strong barrier to the outside world, keeping our skin safe from irritants and aggressors."
While Ceramides are naturally found in the skin, Ms McAdam adds that they "can become depleted by exposure to hot water, soaps, chemicals" and the environment.
When this happens, according to Ms McAdam, "our skin's barrier can become compromised, leading to dryness, itching and irritation".
"Replenishing Ceramides with Ceramide-infused skincare helps maintain a strong skin barrier and increased moisture levels," she says.
What products contain Ceramides?
Looking at the skincare shelf at your local retail pharmacy you may notice that an increasing number of products on the shelf contain Ceramides, including the product range by CeraVe.
"Each and every one of CeraVe's Dermatologist-developed, fragrance-free products are enriched with Ceramides 1, 3 and 6-II to help maintain our skin's natural barrier and promote healthy, beautiful-looking skin," says Ms McAdam.
"CeraVe's unique combination of three essential Ceramides (1, 3, 6-II) were selected dur to their major role proven to protect our skin's barrier function.
"A reduction in these three key Ceramides can cause dry skin, moisture loss, dehydration and skin conditions."
CeraVe moisturising range
 If you find that your skin is becoming increasingly dry and flaky as the winter months roll on, make sure you check out CeraVe's range of moisturising products, including:
CeraVe Moisturing Lotion (236ml pump, RRP $13.99).
CeraVe Moisturising Cream (340g, RRP $18.99).
CeraVe Hydrating Cleanser (236ml pump, RRP $12.99).
CeraVe Reparative Hand Cream (48mg tube, RRP $8.99).
For more information about CeraVe and their products, visit: cerave.com.au.