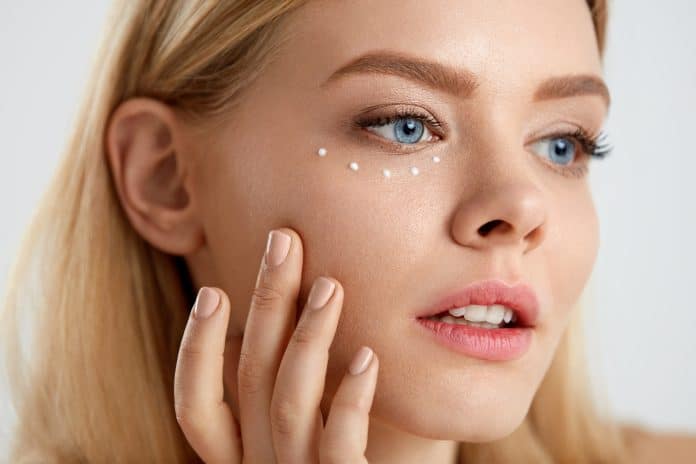 I'm going to begin this feature with a confronting fact: your 20s are not too early to start worrying about aged skin. There, I said it.
"We lose one per cent of collagen reserves [per year] after the age of 20," Andalou Naturals product trainer and skin specialist Cathy Galileos explains. 
On the shelves of a retail pharmacy you'll see a vast range of eye creams, promising an array of benefits, such as 'reduce dark circles and puffiness', 'create a brighter look', 'age rewind' and so on.
"Eye creams are formulated to gently treat the delicate skin around the eye, with a mix of anti-ageing ingredients that everyone's skin needs: antioxidants, skin-replenishing ingredients and skin-restoring ingredients," says Ms Galileos.
"It's never too early to start a good eye care routine – the use of preventative anti-ageing products for a more youthful appearance."
Quality ingredients for the eyes
One of the key ingredients in Sukin's Antioxidant Eye Serum is Cucumis sativus, also known as cucumber. For a long time, I assumed the women sitting in day spas with cucumbers over their eyelids were doing so to block out children from their sight. It turns out that humble cucumber holds many benefits for the skin, especially skin around the eye area.
Cucumber extract, rich in vitamins, including A and C, and antioxidants, has proven benefits for the skin, such as soothing irritated areas and moisturising, being anti-inflammatory, and inhibiting sebum secretion and melanin synthesis.*
Ms Galileos says that for those unsure about the reliability of a product, education is always the best option.
"It's always important to be well informed and understand each product's ingredients and their benefits."
To dive into what other beneficial ingredients are included in retail pharmacy eye creams, check out the full feature in Retail Pharmacy Assistants magazine, September.
Reference: 
* Nguyen VK, et al. 2019. 'Fermentation of cucumber extract with hydromagnesite as a neutralising agent to produce an ingredient for dermal magnesium products'. Accessed 11/8/20. Available at: mdpi.com/1996-1944/12/10/1701/htm