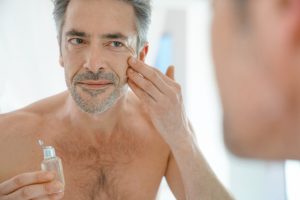 Is it true that you can rewind the beauty clock with skincare products? And what does anti-ageing actually mean? In the August issue of Retail Pharmacy Assistants e-magazine, we explore this common skincare goal.
Pharmacy Assistant at Wholelife Pharmacy Strathpine Emma Smallbone, says that in her experience "anti-ageing is the most popular as consumers want to prevent [ageing], find some instant fixes and long-term treatment, and are willing to pay well to look younger".
Visible ageing 
The truth is most of us are not Paul Rudd or Jennifer Aniston – we will visibly age.
Skin changes are among the most visible signs of ageing, and while there are cosmetic injections available to assist with re-winding the clock, it can be quite costly.
"It can mean prevention of ageing, targeting ageing that is currently visible, or targeting dullness and lack-lustre appearance or pigmentation," explains Ms Smallbone.
Changes that occur with ageing also include the outer skin layer (epidermis) thinning. Therefore aged skin can look paler, and clearer (translucent).¹ Pigmented spots, including aged spots, 'liver spots' may appear in sun-exposed areas.¹
"Your skin may show signs of pigmentation before lines and wrinkles and vice versa. So, understanding what the main concern is is vital."
Visible solutions
"The best products promote healthy cell turnover, environmental protection, correct hydration and (with certain people) active ingredients.
"So, a skin-matched cleanser, exfoliant and moisturiser with a serum to target concerns.
"Referring to active ingredients, some serums can contain active ingredients like retinol that may give people with sensitive skin some irritation, so they might want to avoid it. [However,] there are plenty of other treatments that will provide similar benefits."
Conversation tips 
A challenge that can come with recommending anti-ageing skincare products to customers is the customer's expectation, as some consumers may expect instantaneous results.
"That's where I find price can make things hard," says Ms Smallbone.
"There is the expectation that because 'I've paid more, it will work faster and better than its competition'.
"But the other parts of this puzzle are the person's skin type, condition, environmental factors (e.g., smoking, sun exposure, stress), age and most importantly, how willing they are to be consistent.
"Consistency is the absolute key to having a good result and long-term changes," she says.
For more and to read the full feature as it appears in this month's issue of the e-magazine, visit Retail Pharmacy Assistants August.
Reference:
Medline Plus, N.A., Aging changes in skin.gov/ency/article/004014.htm