What have you done to ensure workplace health and safety during the COVID-19 crisis?

We are, of course, complying with the regulations set by the Australian Government and are enforcing social distancing measures.
Our team is working from home, and when required, one team member is on-site to fulfil orders. We are staying connected through email, Zoom and WhatsApp, and are making sure all of our needs are being met, despite not being in the same space.
We are also really aware of working with suppliers who prioritise the health and safety of their teams. This includes our collaborative partners, external warehouse teams and production teams.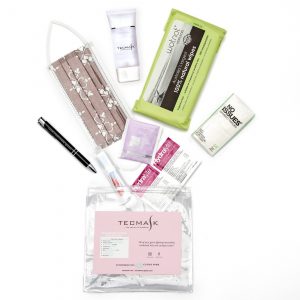 What makes TECMASK products different to other facemask products on the market?
One of the key differences that makes TECMASK products unique to other face masks is that we have turned a useful commodity into something fashionable, stylish and fun for people to wear and use.
The common face mask is one that looks medical, clinical and stark, so we believed that by creating a face mask with a stylish design, we could reduce the stigma and change the perception of wearing face masks as a way to take control of your health.
Each TECMASK has a PM2.5 filtration, and due to its Filtration Efficiency (BFE & PFE), the specially integrated filter is designed to block over 99% of Bacteria and Particles. Our products have been tested and certified by Nelson's Laboratories, a global leader in microbiological and analytical lab testing.
Are the masks disposable and are they products that healthcare workers can also be using?
TECMASKs are disposable and are most effective when worn up to eight hours. Although TECMASK has been certified by the Nelson's Laboratory in Salt Lake City, USA and each mask has a PM2.5 filter, it is recommended that healthcare workers use only approved, purpose-made face masks which have been specially produced for a health care and clinical environment.
What is your message to consumers around facemasks?
We definitely don't claim to be medical specialists, however, studies do support the use of face masks to prevent the spread of germs. While these aren't the sole universal key to preventing the transmission of germs and droplets, we know a properly fitted mask with good filtration can act as a barrier and can help reduce the spread. We also endorse the sentiment that if you are in direct contact with a sick individual or you are a vulnerable person, wearing the right mask can be a form of protection.
Given the global shortage of masks, we do think it's best to leave the specialised face masks for health care workers, immunosuppressed individuals and those in direct contact with people who are unwell. In a time like this, it's important to think of others and care for the people in the community who need the most protection.
How else can consumers ensure they're meeting stricter hygiene measures during this pandemic?
We always suggest keeping hygiene easy! Whether it be keeping one of our TECMASK Hygiene Packs on hand, so you have your essentials with you wherever you go, or focusing on frequent handwashing, the hygiene regime that people will stick to is one that is simple and easy to follow.
We always recommend keeping up to date with government recommendations for hygiene and personal care and integrating the practice of these recommended measures into your daily life.
Where can consumers/pharmacies purchase TECMASK products? 
The high consumer demand for TECMASK products, as well as our commitment to supplying products to people in isolation and those who may be immunosuppressed or vulnerable means our TECMASK Hygiene Packs are available exclusively online at tecmask.com
People can order their TECMASK Hygiene Pack from the safety of their home and have their pack delivered directly to their door.
Click here, to read part one of Maddy's interview.