I recently began incorporating one day of the working week, as a day that I don't apply any makeup.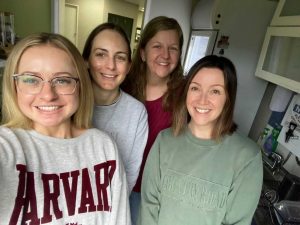 While that may not seem like a big deal for some – it was a huge step for me, and I'm sure I'm not alone in this.
Why? Because the makeup covers up all of my little flaws! Puffy eyes? No worries, concealer.  Uneven skin tone? Absolutely no dramas, foundation! Pimple? Forget about it, more concealer.
I feel really confident when I wear makeup, and I'm not ashamed of it. Applying makeup in the morning is a form of meditation for me, it's fun, it's calming, it makes me feel good.
However, for some reason, the universe packs my schedule every June/July, with birthdays and 'must-attend' events. Therefore, every weekend, I chuck on a heap more makeup.
As I mentioned before, I love makeup, but wearing it so often tends to cause breakouts on my skin, no matter how well I cleanse, thus leading me to 'no makeup Fridays'.
It allows my skin to have another day of the week, to just breathe. I've definitely noticed a reduction in little breakouts.
Since beginning this, my colleagues have jumped on board with enthusiasm – who doesn't want a little extra time in the morning for a sleep-in?
With this, there is a downside that we've noticed … the air-conditioning absolutely dries out our skin!
My face goes red by midday, and I can feel all the moisture that's been drawn out of it.
Apologies air conditioning but who gave you the audacity?
Due to this realisation, I've been doing a little brainstorming and researching on how to keep up the moisture throughout no makeup Fridays, and this is what I've found …
Top tips to keep skin hydrated during the day 

Lather up a hydrating serum, and moisturiser to start your day. Using a serum and moisturiser that targets dry skin specifically, will help keep your skin feeling moisture-filled for longer.
You can take a look at some of the hydrating serums we've trialed, here.
Drink loads of water throughout the day. I'm sure you've heard it all before, but beauty begins from within … literally.
In Beauty Buzz December 2019, I spoke with Accredited Practising Dietitian and spokesperson for Dietitian's Australia Jane Freeman who said, "Your body is made up of roughly 50% to 70% water, and of that percentage, your skin alone has about 60% to 65% of that.
"Water is required to transport key nutrients and minerals through the body, and will, of course, keep the skin plump and hydrated."
Usually, I would opt for a mist that is fragrance-free, as it sits on the face for the rest of the day, and I don't want it to become irritated, but DB's Mist Me doesn't include an overbearing scent.
Hydrating mask before bed (optional). If you don't have time to sit there with a mask on, which honestly … fair. There are always the options of an overnight mask, that you simply apply to the face, then go to bed and wash off in the morning or find a really rich moisturiser to lather on after you've had a shower.
On suggesting the most hydrating products, Associate Professor and Dermatologist Rosemary Nixon said in Skin Fix July 2020, "Greasier moisturisers are most effective, and are best applied after the shower and/or before bed.
"However, compliance is really important, so some people will not like greasy moisturisers. It is important that people find a product that they will use regularly."