The days continue to get colder and I know that I can't be the only one with skin that is becoming drier.
Luckily, pharmacies are great for reasonably-priced skincare and beauty products that aim to quench your skin's thirst.
This week the team at Retail Media (compiling of different ages and skin types) tried and tested a number of them so that you can make promising suggestions to your customers when it comes to dry skin.
Our skincare squad participants looked at the absorption level, consistency, hydration, scent, and price points of some of the latest innovations in retail pharmacy.
So, which serums are under the spotlight this week?
Skincare squad participants

Monique, 34
Skin type: combination (dry, oily t-zone).
Skincare goals: ultra-hydration, minimise pores, reduce pigmentation.
Trina, 46
Skin type: normal, to dry.
Skincare goals: anti-aging, skin protection, minimise pores.
Emily, 25
Skin type: combination, minimal acne.
Skincare goals: hydration, reduce redness.
The reviews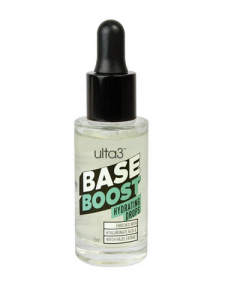 Ulta 3 Base Boost, RRP: $10.95. 
Monique: "The drops provided good coverage, and the absorption was quick. It was pleasantly smooth, and the drops held their shape due to a more jelly-like consistency (rather than oily.
"It gave my skin an extra boost of hydration underneath my moisturiser and was long-lasting as I could feel it wash off my skin at the end of the day.
"The fragrance is very subtle and allowed the fragrances in my other products to sing, which I liked."
Trina: "This serum absorbed well into my skin, and had a smooth consistency, while I usually prefer a lighter consistency, I found this one to be quite thick.
"My skin felt hydrated and softer than usual – I found it lasted throughout the entire day, and had a neutral fragrance."
Emily: "This serum absorbed quickly, making it convenient to begin applying other products sooner. It was lightweight in texture, with what felt like a water base.
"For my skin, it didn't feel SUPER hydrating, but that was due to it feeling lighter, and made for a good daytime serum, it also had no fragrance so was not irritating." 
Q+A Hyaluronic Acid, RRP: $13. 
Monique: "The Q+A Hyaluronic Acid absorbed well into my skin – however, I needed to use a little more to ensure it spread evenly across the face.
"It felt like a water-based texture, was incredibly light on the skin, and had a neutral fragrance."
Trina: "This product absorbed quickly and efficiently, and consisted of a smooth texture, and did not live the skin feeling oily.
"It made my skin feel hydrated and soft, and lasted until the next time I washed my face, there was no fragrance.
"I had not used a serum before trailing this product, and now I would consider incorporating it into my everyday routine."
Emily: "The product absorbed at a great rate into the skin, it felt very light and not heavy at all – great for a morning serum, and there was no fragrance, which I prefer as my skin generally gets a little irritated by fragrances."
La Roche-Posay Hyaluronic Acid Anti-Ageing Serum, RRP: $69.95.

Monique: "The La Roche-Posay serum provided fast absorption and good coverage with only using two drops.
"It consisted of a smooth texture however was a little more 'watery' than I would prefer. It was quite hydrating and lasted the entire day.
"I personally found the odour stronger than I would normally like."
Trina: "I found this product absorbed faster than the others I trialed. It consisted of a smooth and light texture but was not too light.
"Due to it being light, it didn't feel as hydrating as other products on my skin, and included a slight clean smell."
Emily: "I really enjoyed this product as it absorbed evenly across my face, and didn't leave me feeling 'sticky'.
"It left a very hydrating feel that lasted the whole day, and didn't have a fragrance."
Hello, Good Stuff by Essence, RRP: $9.00.

Monique: "The Hello, Good Stuff serum provided good coverage using three drops. It absorbed slower than the other products, which I liked as I was able to cover my whole face.
"It was smooth and had a heavier consistency which I enjoyed. Although it was overwhelmingly sweet in scent, it didn't last for long and as someone who doesn't like scents, I was okay with it."
Trina: "This serum absorbed very well into my skin, and consisted of a silky, smooth feeling.
"It was hydrating and long-lasting, and I really liked the sweet pineapple fragrance." 
Emily: "The essence serum absorbs well into the skin and has a more 'oily' feel to it than the others, so it feels very hydrating and fresh on the skin.
"A little bit goes a long way with this product, so it's very convenient. Usually, my skin would be irritated by fragrance – however, it did not react to the sweet pineapple smell."