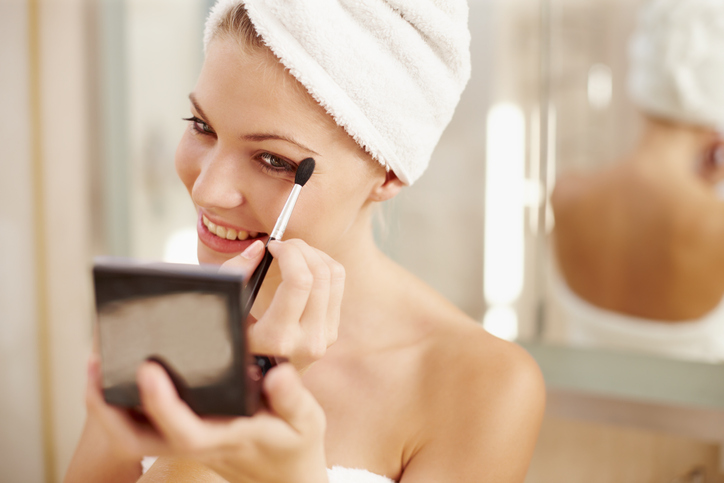 Whether it be slip dresses, high-waisted jeans or crop tops, the 90s era has been embedding itself into modern day fashion and beauty for years, and in 2023 nostalgic makeup trends have been adopted by experts, icons and everyday people.
 Long gone are the days of bold, dark eyebrows, harsh contouring and highlighted cheekbones. Makeup lovers have resorted to 1990s and early 2000s trends such as frosted shadows for glam, minimal brow makeup, nude eye shadow, dark lined lips and, of course, blush.
Retail Pharmacy Assistants explores the makeup trends taking over for spring and how such looks can be achieved by shopping at a pharmacy.
 Y2K frost is for real
As New York makeup artist Sara Talias told the beauty writers at Oprah Daily earlier this year, the 'frosty' makeup of the 90s is back, with spring trends all about embracing icy finishes with shimmery shadows and lip glosses.1
This was supported by the beauty team from Harper's Bazaar who said that while 'Y2K shimmer' can be polarising, it's fun to use when glamming up for an evening out.2
To make this look work, and not have it look like you've just stepped out of a 10-year-old's birthday party, opt for a shimmery eyeshadow stick that glides over the eyelid after an eyelid primer has been applied to the lid. The best brushes for shimmer and glitter are flat ones, but if the customer is out of those, a finger will do perfectly. Make sure the look stays in tact by using a setting spray after the eye look is complete.
 Pharmacy products that can help achieve this look include:
NYX Professional Makeup Pro Flat Detail Brush.
Revolution Professional Fixing Spray.
theBalm Put A Lid On it Eyelid Primer.
NYX Professional Makeup Ultimate Glow Shots, colour 'Thru Coconut'.
Barry M Glitter, colour 'Hypnotic'.
 90s redux
For 90s makeup, think dark lip liner, minimal brows, and nude/dark eyeshadows, and that's exactly what's trending this spring. Makeup artists are taking a modern spin on the 90s makeup look by creating a minimalistic base with a brown lip and natural brows.
To achieve the look, keep foundation simple, and use nude eyeshadows, a dark lip liner around the lips and a brow pencil to ensure precision over boldness of the brows.
Pharmacy products that can help achieve this look include: 
Real Techniques eye shade and blend brushes.
Rimmel London Magnif'eyes Nude Edition eyeshadow palette.
Models Prefer Liquid Liner Ink Black.
Australis Lip Pencil, colour 'My Fair Lady'.
Maybelline Brow Ultra Slim Eyebrow Pencil.
Essence Long Lasting Eye Pencil.
Blushing it back
Blush is back and with a real vengeance, having taken over social media platforms for most of 2023. Celebrity makeup artist Vincent Oquendo told Oprah Daily that blush helped to brighten the face.1
There are many ways to achieve the 'sunburnt look', as many brands have jumped on board the blush train. For a very subtle pink look, using a liquid blush while applying foundation is a good way to go, and the look can be made to stand out even more by applying a blush powder over the top after the foundation is complete.
To make a blush look really pop, spray setting mist on an angled brush before dipping it into the powder, and apply on the top of the cheek bones. 
Pharmacy products that can help achieve this look include: 
Nude by Nature Angled Blush Brush.
L'Oreal Paris Wake Up & Glow Life's a Peach Blush.
Thin Lizzy Baked Blush Trio.
Milani Cheek Kiss Liquid Blush Wine Glow.
Revlon PhotoReady Rose Glow Primer.
KIND Cosmetics Prep & Protect Mist.
 References:
Oprah Daily, 2023. 'The spring makeup trends everyone can pull off'. oprahdaily.com/beauty/skin-makeup/g43593404/spring-summer-makeup-trends/
Harper's Bazaar, 2023. 'The best spring 2023 makeup trends you'll want to try now'. harpersbazaar.com/beauty/makeup/g41339490/spring-2023-makeup-trends/
Published in Retail Pharmacy Assistants September https://rpassistants.com.au/retail-pharmacy-assistants-september-2023/