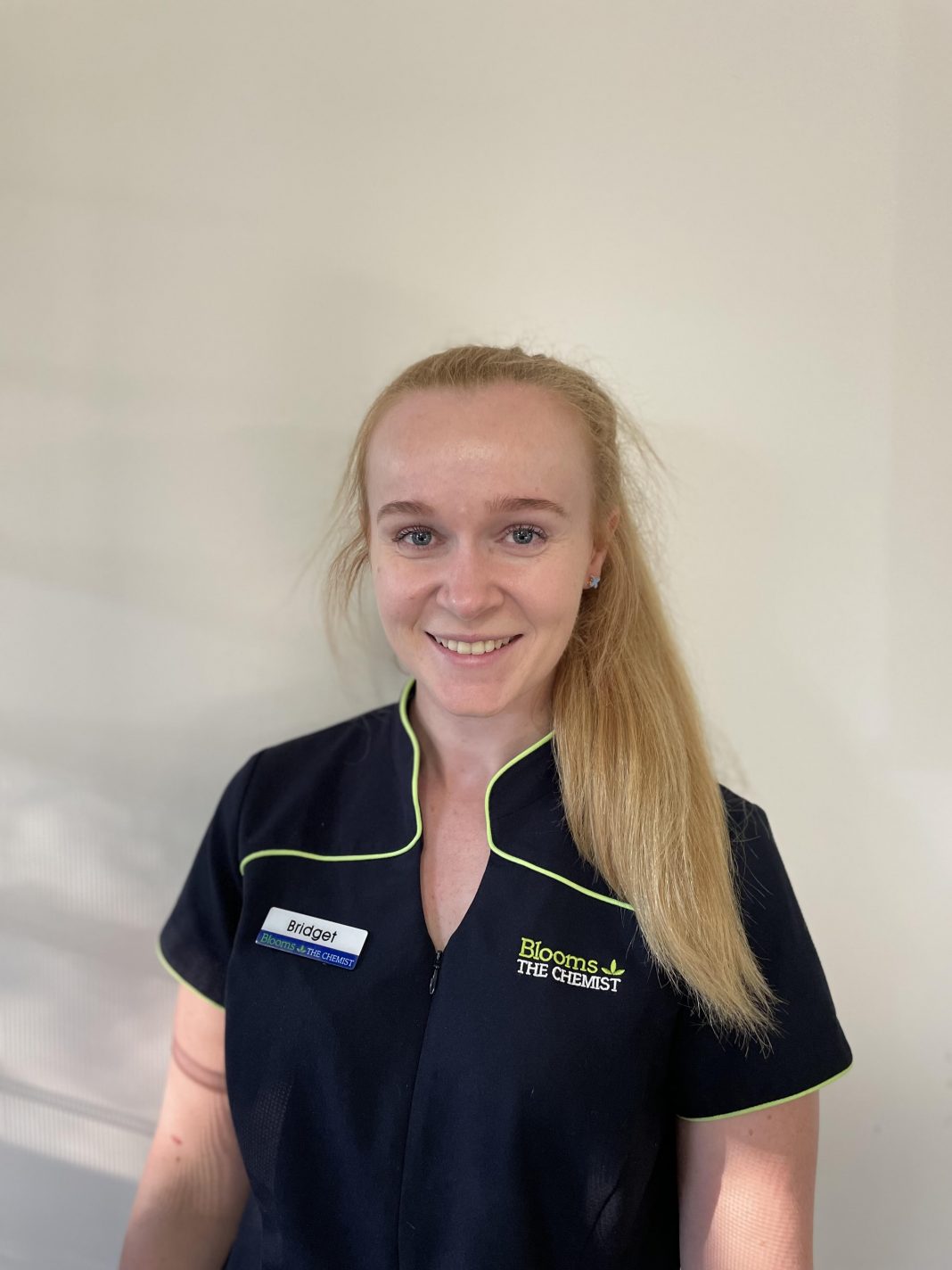 If you could describe pharmacy assistants in three words, what would they be?
Empathetic, knowledgeable, committed. These words reflect the Blooms The Chemist pharmacy assistant mission statement, created by me and the 2023 South Australian winner of the Pharmacy Guild/Maxigesic Pharmacy Assistant of the Year Award, Makailee Weltman: "We are committed, we are knowledgeable, we are more than 'just', we are pharmacy assistants."
Tell us about your background and how you came to work in retail pharmacy. What is your current position/role?
I applied for a pharmacy assistant position at Norwood Village Pharmacy in [Adelaide] on a recommendation from a close family friend. Being 19 and still new to work life after graduating high school, on my first day I pretty much only knew what Panadol was.
Now, after seven years in the industry and a move to Darwin, I'm the dispensary manager at Blooms The Chemist Bakewell [a suburb of Palmerston, 25km south of the capital]. I'm currently completing my Cert IV in Community Pharmacy Dispensary, and a Bachelor of Health Science (Nutrition and Exercise).
Tell us about the pharmacy at which you work. What services does it offer? What types of customers typically come through its doors?
Sleep apnoea testing is a fast-moving, ever-growing service at Blooms The Chemist Bakewell. We have the equipment, skills and training to aid in both testing and forming a treatment plan. Like most pharmacies, we have a wide range of customers come through our doors.
In the Northern Territory, we have a large population of First Nations peoples. At Blooms The Chemist Bakewell, we've connected with Danila Dilba, an Aboriginal community-controlled organisation providing culturally appropriate, comprehensive primary healthcare and community services. We help to provide support to their patients with prescription needs and sleep apnoea services.
Not only do we offer a wide range of in-house services for our customers, but we also support worthy charities such as Make-A-Wish Australia and Gidget Foundation Australia.
Describe your pharmacy's team
We have a wonderful team at Blooms The Chemist Bakewell, with junior pharmacy assistants, four senior pharmacy assistants, a retail manager, a dispensary manager, an intern pharmacist, and two full-time pharmacists. Our team has a range of skills, and we always encourage each other to follow our passions within the industry.
Within pharmacy, is there an area you specialise in, or have a particular interest in?
Over the course of my seven-year career, I've been fortunate to develop my experience in a number of areas in the industry, including compounding, Webster packing, dispensing, merchandising, sleep apnoea testing, deliveries and more.
For the past year, I've been one of the team members at our pharmacy in charge of Webster packing. We have around 100 patients, and that number is only growing. I really enjoy every component that comes with Webster packing, specifically organising the flow and structure of each month to ensure each patient has their packs when required. This ranges from dispensing each medication, packing their packs, liaising with medical professionals and, of course, speaking to the patients. Having a personalised interaction with each patient is one of my favourite aspects of pharmacy. We have such a wonderful community. We support our customers, and they support us.
What have been some of the highlights in your career as a pharmacy assistant so far?
Some of the biggest highlights of my career happened this year. I was promoted from pharmacy assistant to dispensary manager. I'm still new to this position but am really enjoying gaining more skills to better my community, team members and myself.
I was also named Northern Territory Pharmacy Assistant of the Year 2023. The entire process, from nomination through to various interviews and assessments, and attending the Pharmacy Assistant National Conference, was completely eye-opening and so positive. I've gained so much confidence and inspiration from the judges, other state winners, and our mentors. Blooms The Chemist was my biggest supporter throughout, and really celebrated with me in this achievement.
What has been the most challenging part of working as a retail pharmacy assistant?
Every day is different. One of the most challenging aspects, especially recently, has been navigating medications that are out of stock for the long term, but in high demand. We want to do anything we can for our customers, but during these times, our resources are limited.
As a pharmacy assistant, what impact do you hope to have within your community?
I want to build my skills and knowledge to the best of my ability so I can provide the best services and care to my community when they set foot in Blooms The Chemist Bakewell. Using training services that Blooms The Chemist has readily available, I can touch up on work health and safety modules, as well as keep up to date with recent product knowledge. I'd love to see pharmacy assistants gain a better reputation within their communities as vital professionals in the industry.
More broadly, what impact do you think pharmacy assistants have within the wider pharmacy industry?
Pharmacy assistants have so many opportunities to improve their product knowledge and customer service skills. With these skills, they can provide the highest quality care to their communities, with little disruption to the pharmacist. Pharmacy assistants are the first point of contact to any patient that enters the pharmacy doors. They must then fulfil the request of the patient, or refer them to the correct service, department or professional.
How important is ongoing professional development for retail pharmacy assistants?
Healthcare is constantly changing, and our industry is going through changes and challenges. To ease the weight these changes have on our pharmacists, pharmacy assistants can provide knowledge and services to their community. Keeping up to date with recent health updates helps pharmacy assistants hold a high standard of product and industry knowledge.
How would you describe working as a retail pharmacy assistant to anyone new to or considering the profession?
I would highly encourage anyone considering applying to just give it a go. I had such a limited insight as to what a pharmacy looked like, let alone the products sold, when I started my career. Throughout my years in the industry, I've gained confidence, skills, awards, unlimited training and support, and friendships.
As a pharmacy assistant at Blooms The Chemist Bakewell, I have the opportunity to turn a patient's frown into a smile, help ease a young girl's runny nose, and provide health checks, such as blood pressure, iron, blood glucose and cholesterol. Customers and colleagues start to feel like your family. You can find an incredibly rewarding career within community pharmacies.
What is your advice to other retail pharmacy assistants in terms of achieving career goals?
Don't sell yourself short. There's a wide community of supportive pharmacy assistants who each have the same passion and drive to provide the utmost care for their patients. Never be afraid to ask questions, such as whether there's extra training available or additional responsibilities you can take on. Finally, don't stop believing in yourself. The options are limitless for pharmacy assistants.
Retail pharmacy (and the healthcare industry) has faced some serious challenges over the past few years. What are some of the things that helped you and your team members get through these difficult times? What's your advice on overcoming challenges?
At Blooms The Chemist Bakewell, we always have one another's backs when there are challenges. Over the past few years, communication has been key in keeping our team informed and connected. It's also important to remember that making mistakes is OK. Mistakes help us learn and find strategies to become stronger in the future.
Where do you see the industry headed in the next few years?
I can't wait to see what community pharmacy looks like across Australia in the next few years. With full scope receiving such positive results and feedback, I believe that within a few years, our pharmacies will resemble specialised health clinics. Authorised pharmacists will be able to provide an extended number of services for their community, which not only benefits the patient, but also positively impacts the weight of numbers sitting and waiting in hospitals and GP clinics. I'd love to  see pharmacy assistants playing a larger role in the new community pharmacy settings, acting similarly to medical clinic assistants and further supporting the delivery of healthcare.
This article was first featured in Retail Pharmacy Assistants October emagazine.