Many of us spend our lives caught in the 'now', working and doing our day-to-day activities.
But have you ever caught yourself daydreaming about what's next in your career?
The coronavirus pandemic gave many a chance to re-evaluate much in their lives and work, together as a community to find a new normal.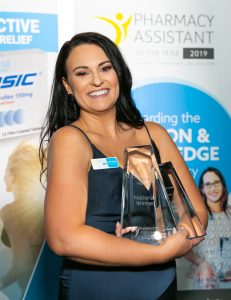 Pharmacy Assistants were there every step of the way for Australians during this crisis, and selflessly continued to serve the community.
With so many distractions this year, many primary healthcare workers have put the community first.
Now's the time to put some thought into you.
Are you taking care of your health and well-being? Have you had a chance to think about what's next for you and your career?
Perhaps in a year full of 'different', now's the time to take a brave step for yourself and your career ­– explore opportunities that might be out of your comfort zone!
Have you ever been nominated or thought about nominating for the Pharmacy Assistant of the Year Award but been too afraid to try?
Have you ever wanted to do further study – perhaps a Certificate III or IV in Community Pharmacy?
Be brave in 2020.
Nominate yourself for the Pharmacy Assistant of the Year, enhance your qualifications by enrolling in a Guild Training course, or ask someone to mentor you.
2020 is the time for you and your career.
Brianne took these brave steps and won the 2020 PATY Award.
Watch her story at: pharmacyassistants.com/paty.
This story first appeared in this month's issue of Retail Pharmacy Assistants magazine: rpassistants.com.au/magazines/retail-pharmacy-assistants-july-2020.