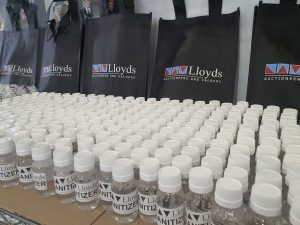 National Online Auction Company Lloyds Auctions is offering another 10,000 free hand sanitisers to Australians – however, the team needs help in sourcing empty bottles to fill.
"We are pleading to any company who may have a supply of empty 50ml or 125ml bottles if you have any spare please let us know, we will purchase them right now so we can send more FREE sanitiser to Australians in need!" says Chief Operations Officer for Lloyds Auctions, Lee Hames.
"With the bottle supply that we had in stock we were intending it to last for about a month but now it has gone in just one day."
Mr Hames says that the company has enough hand sanitiser – however they just don't have enough bottles to meet the demands.
"You can understand why these overwhelming enquiries are pouring in as most people are unable to access these products at their local supermarket or pharmacy.
"Many people are confined to their homes due to personal or health reasons and we are delivering straight to their door," explains Mr Hames.
"We encourage people in the community to reach out for anything that they may need, even if it's for a chat. We will try and help you, no one should feel alone and we must look after each other to get through this difficult time and put people first."
If you are in need of basic sanitisation products or assistance, click here.
To get in contact with Lloyds Auctions, email family@lloydsauctions.com.au or call 1800 456 588.