Founder of swimwear brand IIXIIST, Rebecca Klodinsky exudes resilience and persistence and knows a thing or two about the importance of the right mindset when it comes to self-confidence (in and out of the water), business, and overcoming challenges.
This month, I spoke with the entrepreneur about achieving your dreams, overcoming battles, readjusting in the face of unforeseen circumstances, and seeing the silver lining in every obstacle.
To start, tell us a little about yourself. Who is Rebecca Klodinsky? 
I'm a mum and [as a business owner] I've got my hands in every single pocket of my company, [which] I started … when I was in my early 20s while I was studying a double degree in psychology. So, I'm a multi-tasking introvert, actually.
You have an inspiring business story, building a brand from the ground up, twice: Frankie to Frankie Swim to IIXIIST. Talk us through that and how you came to create the swimwear brand. 
It started as a side [interest] that I was doing at uni. I'm a very active person – yoga, Pilates, running, gym, all of that. And I live on the Gold Coast. At the time, I really just wanted a bikini that I could go from the beach to Bikram [Yoga] in.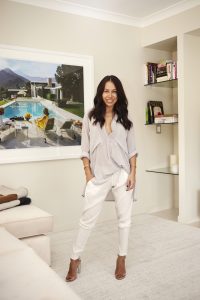 That's where it came from. I knew what I wanted, and that there was nothing that existed to my brief. Also, price points back in 2012 and 2013 were either hundreds of dollars or Target and Kmart. There was no happy medium. I decided what I wanted to do. I just thought, I'll give this a crack. I jumped on Google and found … manufacturers in Indonesia. I drew what I wanted, packed a back-up, went over to Bali and the rest is history. I didn't drop out of uni. I deferred just in case things didn't work out the way they did. I've never looked back.
What's the story behind the name, IIXIIST?
Frankie is my dog. He's my best friend and was on the journey with me when I was registering the name in 2012/13. I didn't know what my business was going to be called, I just knew that I needed an ABN and, back then, I had no idea what that meant. He jumped on my lap and I called [the business] Frankie Swimwear. I set out to change the name once I'd really thought about it. That didn't happen because the brand just grew.
A couple of years later, I was in a bit of conflict with another company with a similar-sounding name, overseas, that evidently started their brand the same week that I did. So, I entertained the idea of a rebrand. I misspelled the name Frankie with double 'i' and I dropped the word swimwear and became 'Frankii Swim'. I wanted to keep the sentiment of my Frankie but just change it to make a point of difference. But that didn't work.
The brand still grew. I have a huge international audience or customer base and it [the name] just became a real sticking point. Over the past couple of years, we've been in and out of court and lawyers' offices and I got to the point where I didn't even want to fight for the name. The name Frankie, for whatever reason, got trendy.
So, I just wanted out and thought that this was a blessing in disguise to be able to step away and do another rebrand and really flex my creative muscle again. So, I carried on the double 'ii' from Frankie with a bit of sentiment there, and I misspelled the word 'exist'. Also, after all of these rebrands, I didn't want a word that was similar to someone else in the world. I didn't want to grow to another point and then have to entertain another [naming] argument. So, I made up a new word, IIXIIST. We've got a new brand and everything's great.
You work in a very competitive and perhaps challenging industry. How do you maintain motivation and resilience to continue despite setbacks and challenges?
I just stay in my own lane. From day one I've never looked outside my own circle. And when I say circle, it's my Instagram page or my website. I don't like to see what other people are doing, what influencers they're using, how they're talking to their consumers … I just do what I do and focus on my customers, on my followers – what they want, need, expect and how they need to be treated. One thing that sets me apart is that I stay true to the brand and I'm not focusing on trying to keep up. I think I've stayed relevant by being myself.
How has Covid-19 impacted your business and how have you overcome these challenges? And how have you ensured ongoing business throughout the pandemic?
The shutdown, lockdown … the isolation – all this happened hand in hand within weeks of the rebrand happening. In the beginning I thought, 'You've got to be kidding me, the world has stopped'. But as the days went on, I thought, 'Hang on a second. This is a blessing in disguise'.
The pressure is off for all brands. No one needs to be sold to right now, so let's get on with it. My marketing immediately changed. The messaging was very transparent in terms of what we were, who we are and what is happening, and we were able to really fine tune that.
Talking with our customers has been a saving grace through all of this because while Covid-19 is bad and it's out of our control, nobody was selling, and we were able to just be. And everyone had to just be: there was no competition. So, it's been good for us, a real blessing in disguise. We were gifted time, essentially.
As a woman in a position of influence, what is your advice/message to retail pharmacy assistants who may have big career goals? What is your secret to success and a winning mindset?
What I said before: just stay in your lane and focus on what you're doing, because it's easy to get caught up in what everybody else is doing. Follow what you want to do and pull it off, because you can diversify, and you can be creative enough. But if you've got something ahead of you, just go for it.
To read the full interview as it appears in the September issue of Retail Pharmacy Assistants magazine, visit: rpassistants.com.au/magazines/retail-pharmacy-assistants-september-2020/