Passionate about health and wellbeing? So is the Editor of Retail Pharmacy Assistants magazine. Learn a little about Margs and what the future has in store for the mag!
Have you always felt connected to the health industry, and if so why?
I've always had a strong interest in health, wellness and fitness. I've been connected to the health industry through my previous profession – many of you may not know, I was a dietitian in a past life. I worked as a dietitian across clinical and private practise for more than 10 years.
I'm also really active – I can't sit still! [Laughs] I'm an age group triathlete and my proudest achievement is representing Australia at the IRONMAN 70.3 World Championships in South Africa in 2018. I love to swim and bike, but running is my jam. I also love to yoga!
What makes the RPA platform unique?
Well, we are the only industry magazine of its kind. You won't find any magazines targeted directly at retail pharmacy assistants, so I think that gives us a unique platform to provide relevant, factual up-to-date information to retail pharmacy assistants – you!
This can then help you be a voice to your customers.
I've said this in the past – I think, as retail pharmacy assistants, you have a huge opportunity to influence everybody who walks through your door.
Whether that's through health, wellness, mental health or physical health advice. You have the opportunity, and maybe even the responsibility, to be a factual voice of health.
I'm hugely passionate about this topic because I think as cliché as it might be, we can make the world a better place.
Among the stories that you've written and researched so far for RPA – which story has been a highlight/stuck with you the most?
I really love the exclusive interviews, features and the '6 minutes with' stories. I really loved speaking with Rosie Batty. She has an incredible story and her advice, and words of wisdom were seriously inspiring to me.
I did a couple of interviews for the upcoming magazine – which I won't give away because this is coming out before the magazine – but I did a couple of interviews recently at an event I attended. It was a truly inspiring event. What this company is doing in the health and wellness space is very exciting, relevant and will help all women feel great about themselves.
I read and by read I mean, we spoke about it – your health dilemmas relating to your skin irritants. Has this experience equipped you with a stronger understanding of health-related issues, and if so how?
100% because until you experience something personally, you'll have the theory, but you may not have the personal knowledge of what works, and what the person is actually going through depending on the condition they have.
For readers who don't know, I have a past history of severe, whole body eczema – at one point I was close to being hospitalised with it. I was bouncing around from doctors, specialists, anyone you could think of trying to manage the condition – I probably walked into many pharmacies in tears, and frustrations, I just needed that help.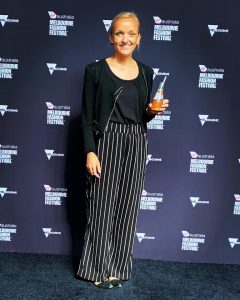 What are you most excited to see happen for the magazine this year?
We have a new website, which is fab! I'm super excited about engaging with readers (you!). I'd love for all of you to engage in our community too.
Together with my team, we're here to help.
You have a big part to play in healthcare and, for that, we are so grateful – now more than ever before. My aim is to use this platform to be a voice for all of you – to help you, help others.
The world is seeing a lot of dark and stressful times – this can weigh down on retail pharmacy assistants as customers have easy access to them in retail pharmacies and chemists. What advice do you give to all retail pharmacy assistants during this time?
Stay calm, would be my first piece of advice.
Remember: you're not only a pharmacy assistant, but you're also in retail. You've got the double whammy of dealing with people who have issues, who may be stressed, worried, anxious, or presenting with symptoms, but you're also in that retail position.
By being calm you will then be able to help others stay calm, too.
Also, stay up to date with the latest knowledge. Things like the current pandemic we're in are scary but don't avoid it completely. You have to know the facts because knowledge is power – uncertainty brings fear.
Reputable websites, such as ours, will help you keep up to date on all the latest news.
The only thing is, that as much as it is important to stay up to date, try not to let yourself get completely consumed by it. As much as possible, try not to let it have an impact on your mental health.
So, keep calm, stay up to date and do the best you can. And remember too, you don't have to cop a beating while working on the frontline – be kind to your customers but firm in protecting yourselves and your colleagues.