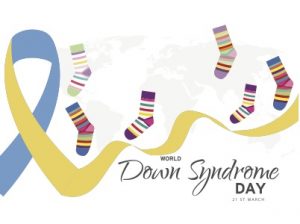 By Emily Devon
One in every 700-900 babies born worldwide will have Down Syndrome.
The chromosome disorder portrays difference in some characteristic physical features, some health and development challenges and some level of intellectual disability.
Due to these differences, groups of people and often the media project negative attitudes, low expectations, discrimination and exclusion towards those with Down Syndrome.
On 21 March 2020 is World Down Syndrome Day.
It's a day created by the United Nations to influence social and policy change, provide a national profile and voice for people living with the disorder.
Awareness and funds are raised to build resources and knowledge capacity of the state and territory of Down syndrome associations.
#LotsOfSocks
Lots of Socks is acknowledged around the world as being associated with Down syndrome.
Why? Because chromosomes look like socks and people with Down syndrome have an extra chromosome.
This year, the team at Retail Pharmacy and Retail Pharmacy Assistants magazines, will be wearing bright, colourful and mismatched socks to raise money and awareness for positivity and inclusion towards those with Down syndrome.
On 20 March, Friday, the Retail Media team will be wearing their weird and wonderful socks in order to draw attention to this important cause.
We are encouraging YOU to slip on your socks, send us a photo, and raise awareness for a  great cause.
Images can be sent to: emily.devon@retailmedia.com.au or @retailpharmacyassistants on Instagram.
Resources:
Down Syndrome Australia, 2020. Downsyndrome.org.au
World Down Syndrome Day, 2020. Worlddownsyndromeday2.org