As COVID-19 gripped the globe and social-distancing lockdown became almost universal, many industries had to innovate to maintain business and a customer base, including the beauty industry, which saw a rise in DIY.
In the May issue of Retail Pharmacy Assistants magazine, we spoke with Chemcorp International General Manager Jodie Phillips to learn more about the latest DIY trends and to get her take on how retail pharmacies can innovate during these challenging times.
Ms Phillips says that while, with most people staying home "DIY beauty is absolutely booming at the moment", another major trend within this space is wellness.
"With the salons being closed and with it being harder to get to the hairdresser, and with people having more time now … it's all about DIY," she says.
"We strongly believe in looking after yourself as well – so, not just trying to look beautiful but to feel good on the inside as well."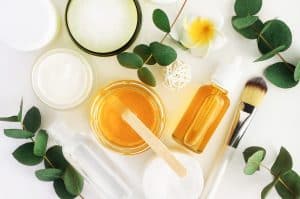 As a result, Ms Phillips says, among the trending products she has noted are DIY eyelash and brow tinting kits, at-home root coverups, Epsom salts and facemasks.
"One product [that's trending] at the moment is our 1000Hour Eyelash and Brow Dye Kit," she said. "Obviously, with eyebrows and lashes being such a big trend, you can't be in isolation without good eyebrows (laughs).
"Within the 1000Hour brand we've also got root coverups to help fix those greys and regrowth … it's an easy at-home product for when you stay isolated."
Ms Phillips adds: "We've actually seen a bit of growth with our Epsom salts. People have more time to have a bath and relax … that's the best way to look after yourself, because [it helps you to] feel relaxed, and that's a good thing.
"Also, facemasks help with looking after your skin … Hop in a bath with a facemask and you'll feel brilliant afterwards."
Keep your makeup clean
With all the talk about hygiene and keeping hands off your face to avoid spreading the virus, another trend on the rise within beauty is knowing how to keep your makeup kit clean.
"With cosmetic brushes, you always have a brush cleaner," Ms Phillips said. "It's good practice to clean your brushes after every use."
She adds that it's also good practice to wash your hands before you "apply something to your face, say if you're going to dye your eyelashes and brows".
"One thing we're [also] really busy with at the moment is in developing our Protech brand," Ms Phillips said. "We've got stocks of sanitiser, anti-bacterial washes, facemasks – all that's on its way. [It'll be] another brand that will be able to help people practice good hygiene."
Leveraging the online space
With retail pharmacies, as an essential service, remaining open during this difficult time of continuing lockdown and physical distancing, it may be harder for customers to come into a store to buy the products they need.
One way around this and for retail pharmacies to maintain sales despite possibly reduced foot traffic is leveraging the online space, as well as the option of home deliveries.
"One hundred per cent, [pharmacies] need to be looking after their online business as well," says Ms Phillips.
"The biggest response we've seen is [in the] online space. The increase in our own online business, as well as in the online resellers we work with, has just … people can't keep up with the demand. So, that's the biggest trend.
"We're seeing a lot of people thinking outside the square in regard to … keeping contact with their customers."
So, in addition to having stocks of the latest trending products – "they need to ensure that have all the DIY-type beauty and hair products" – retail pharmacies need to continue being innovative and to ensure their online space is thriving, especially during this crisis, she adds.
To read the full feature as it appears in the May issue of the magazine, visit: rpassistants.com.au/rpa-may-2020/