As parts of Australia battle with the second COVID-19 wave, and masks become mandatory in some states (namely Victoria), stories are emerging of people making masks at home – some even giving them away to those in need.
While experts have said that homemade, cloth masks are an acceptable alternative to surgical-type masks, Australian researchers emphasise the need to ensure that homemade alternative have at least two layers of material, preferably three.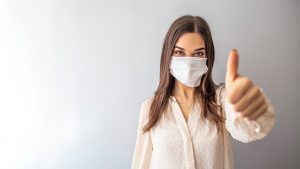 The video case study, published online in the journal Thorax, has reveals that homemade cloth face masks need a minimum of two layers, and preferably three, to prevent the dispersal of viral droplets from the nose and mouth that are associated with the spread of COVID-19.
The researchers used a tailored LED lighting system and a high-speed camera to film the dispersal of airborne droplets produced by a healthy person with no respiratory infection, during speaking, coughing, and sneezing while wearing each type of mask – single and double-layer cloth facemasks compared with a 3-ply surgical mask.
The video recording shows that the 3-ply surgical facemask was the most effective at reducing airborne droplet dispersal.
Compared to a single layer cloth facemask, a double layer mask was more effective in reducing the droplet spread from coughing and sneezing.
While the number of material layers is an important factor in the effectiveness of homemade facemasks, it's just one part of the equation, with the material used, design and fit, as well as the frequency of washing the mask, are also important factors to consider.
However, the researchers say that at a minimum, "guidelines on homemade cloth masks should stipulate multiple payers".
The researchers also say: "There is a need for more evidence to inform safer cloth mask design, and countries should ensure adequate manufacturing or procurement of surgical masks."
So, while cloth masks are suitable for helping to stop the spread of COVID-19, the important things to remember are – make sure you have at least two layers of material and that you wash your masks frequently.