On 19 March at 9am, APP Online understandably, launched the conference with a panel discussion on COVID-19 addressing how it's impacting community pharmacies, and what pharmacists should be doing during this time.
On the panel:
Hosted by Kos Sclavos, AM, Immediate Past National President of The Pharmacy Guild of Australia;
Trent Twomey, Senior National Vice President;
John Dowling, Branch President, Tasmania Branch;
Gerard Benedet, Branch Director, Queensland Branch.
While the panel discussion was filled with a sense of urgency, calling upon past trained pharmacists to help out – there was also a sense of reassurance.
A great concern is that there are not enough low-risk pharmacists available to assist the number of patients, and work that is demanding help.
"We are fatigued, and we are only at the beginning," stressed Mr Twomey.
He explained that there are young pharmacists (under the age of 50), that may be back at university, or have gone down a different pathway.
"We need you to come back, we need you now."
Mr Benedet agreed, "We do need all hands-on deck. It's a call to arms."
It was emphasised heavily throughout the panel that this is a "marathon not a sprint".
A digital transformation
Despite the e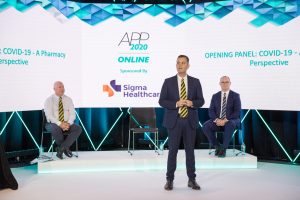 vents surrounding COVID-19 being very unprecedented for many fields. The decline of physical shops was already on the horizon and predicted to fall later into the future.
"The digital transformation that was going to happen within the next 6 years, will happen in the next 6 months," said Mr Twomey.
Healthcare advice is already on its way to being completely available online.
"You're going to find it very hard if you don't have the digital tools to communicate with your staff and with your patients."
Mr Twomey also emphasised how crucial it is for patients not to enter a pharmacy if they are feeling unwell.
"If you need help from your pharmacists and you are feeling unwell, do not leave home, pick up the phone, and call your pharmacy."
Limit purchases
The entire panel agreed that stockpiling is doing more harm than good.
"We're having to deal with fairly stressed customers… but we are certainly encouraging people to try and control that," said Mr Dowling.
"In terms of hoarding and the impact it's having… " explained Mr Benedet.
"… it's dragging capacity forward. It will create an impact following this… people will have stockpiles of medicine when this emergency starts to dissipate."
It was also noted that no one in a pharmacy should be experiencing abuse.
"It's really important to support your staff," encouraged Mr Dowling.
"… nurture them and encourage them to better these situations."
Stay informed  
Mr Benedet stated that "our interaction with the Government is on a daily basis", therefore the updates that The Pharmacy Guild is providing, is accurate and reliable.
"I encourage people to keep an eye on the daily guild check list, it's really important to keep abreast of what is happening," explained Mr Dowling.
"Things are changing every single day."
Don't guess, just ask
"We won't be running and hiding," said Mr Benedet.
"We're open, if you have a question please don't guess, we'll help you find an answer."
Mr Twomey thanks and acknowledges that everyone on the front line – from the wholesale distributors to the drug manufacturers, the pharmacy assistants and pharmacists themselves, are all putting the rest of the country before themselves.
"I want to say thank you to the 65,000 pharmacy assistants – a lot of them are mums. I want to say thank you to the 35,000 pharmacists who aren't thinking about themselves. You are not alone. If you need any assistance at all, just ask."
Call 13 GUILD – don't guess, just ask.