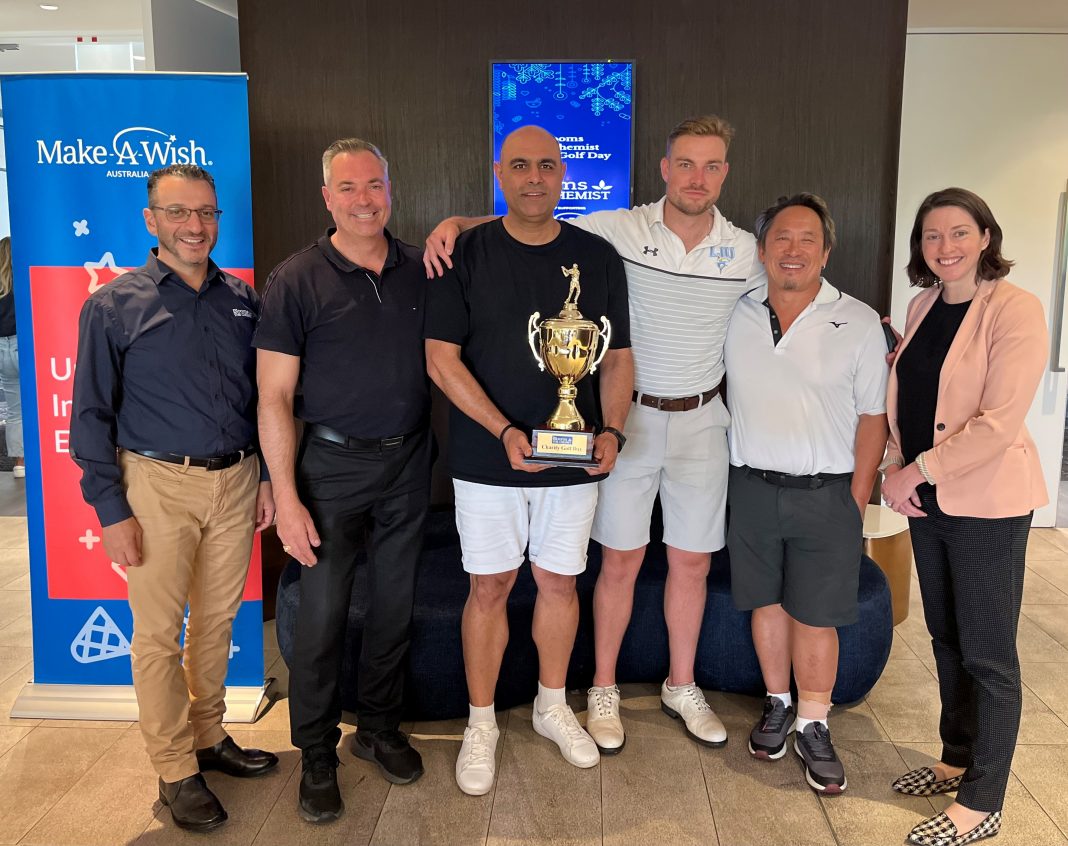 Known for providing care in the community through its network of pharmacies, Blooms The Chemist has taken to the green once again to raise funds for an important cause.
Now in its sixth year, Blooms The Chemist's Charity Golf Day brought together more than 125 sponsors and ambassadors to the Strathfield Golf course on Friday November 3 to raise funds for Make-A-Wish Australia.
Participants played in teams of four, while non-golfers were able to take part in a Paint and Sip activity, donated by Pinot & Picasso.
"We are pleased to share that our 2023 Charity Golf Day has raised $60,000 for Make-A-Wish Australia, which is a record for us," Blooms The Chemist CEO Emmanuel Vavoulas said.
"As community pharmacy professionals, we are committed to leading with kindness and delivering caring services to all Australians, especially those who are the most vulnerable.
"We are proud to have been an official partner of Make-A-Wish Australia since 2016, helping to grant the wishes of critically ill children, and we thank all our partners, sponsors, valued customers and team members for rallying together for this very important cause," he said.
Make-A-Wish Australia CEO Sally Bateman was a guest speaker during the Blooms The Chemist's Charity Golf Day lunch and charity raffle. She highlighted the impact granting wishes can have on critically ill children.
"A wish granted can improve self-confidence, emotional wellbeing and play an important role in giving the child something positive to look forward to. We are dedicated to doing everything in our power to enable children with critical illnesses to create happy memories with their families that will last a lifetime," Bateman said.
"Make-A-Wish Australia receives no government funding and relies solely on the support of organisations, the community and individuals, which is why we are so thankful to our partner, Blooms The Chemist, for hosting yet another incredibly important fundraising event."
Since 2016, Blooms The Chemist has donated over $1.7 million to Make-A-Wish Australia through various activities, including hosting more than 100 in-pharmacy fundraisers  and baking thousands of cupcakes and biscuits for bake sales.
The other corporate sponsors who made the Blooms The Chemist Charity Golf Day 2023 possible include:
Haleon (Major Sponsor)
Symbion (Major Sponsor)
Arrotex Pharmaceuticals
Bellrock Broking
MPS Connect
Arotex
Ryder Shop Fittting
MPS Connect
542 Partners
Stirling Fildes
WMD Law
Pharmacare
Liberty Special Markets
Medtronic
NSW Pharmacy Guild
Access Projects
Kaimera
Retail Joinery Workshop Australia
Pinot & Picasso