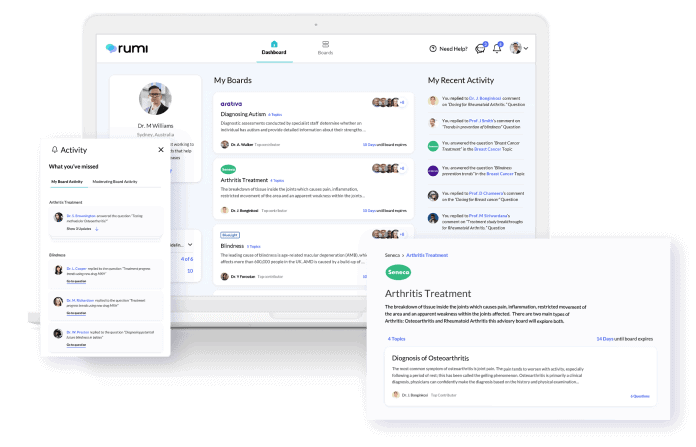 The launch of an innovative digital advisory board platform could transform the pharmaceutical industry's healthcare professional (HCP) engagement opportunities.
The brainchild of Australian pharmaceutical Digerati, Rumi is an online platform designed to facilitate insight-generating, 'any time' HCP advisory boards in a time-efficient, cost-effective, multi-lingual, secure and Code compliant way.
With 'high workload' and 'competing personal and professional demands' reportedly representing the two major sources of work-related stress for Australian HCPs (25% and 26.8%, respectively), demanding and inflexible advisory board requirements can impose an additional burden on already time-poor HCPs.
According to Rumi co-developer and Client Solutions Director, Swipe Health, Steve Royle, the wired, forum-style platform eliminates the need for in-person attendance and the challenges associated with juggling conflicting schedules of time-poor HCPs, by allowing participants to think and respond when convenient to them.
"COVID-19-imposed travel restrictions, shrinking pharmaceutical budgets and indefinitely grounded sales forces are compelling pharmaceutical companies to rethink, and re-strategise their tired, traditional stakeholder engagement initiatives," says Mr Royle.
"Traditional advisory boards have long proven a substantial investment for the pharmaceutical industry, considering the time and fees involved with logistical coordination, not to mention the plethora of hard costs associated with venue and IT hire, HCP travel, accommodation, meals and honoraria, which can range anywhere between $40,000 to beyond $70,000 per advisory board, per annum.
"As a virtual, 'any time' advisory board, Rumi significantly reduces these hard costs by more than half, as well as minimises the labour required to coordinate the various logistics," Mr Royle says.
Rumi enables the HCP advisory board participant to 'rumi'nate and research before submitting their highly considered responses and engaging with peers at their convenience, without needing to travel or take time out of their practice.
Furthermore, the digital platform can translate into all languages, allowing HCP participants to join from any region worldwide, and to seamlessly contribute to the discussion.
To learn more, email connect@meetwithrumi.com or call 0498 160 030.