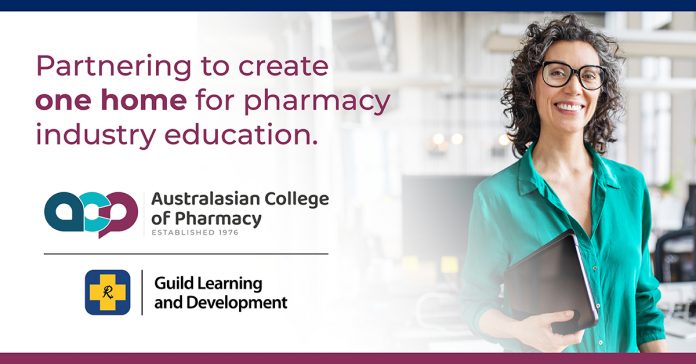 The Australian College of Pharmacy (ACP) and Guild Learning and Development (GuildEd) have formed a strategic partnership to help "simply the education journey" for pharmacists and pharmacy assistants, it was announced earlier today (25 March) at APP2022.
The announcement was made by ACP President, Michelle Bou-Samra who said the strategic partnership will support pharmacists and pharmacy assistants in their professional development by offering a modernised and diverse education and training offering – all through the ease of one leading provider.
Ms Bou-Samra said that while they have strived to continually evolve over the past 40 years in meeting the needs of the pharmacy profession, the "evolution continues with this new strategic partnership between The College (ACP) and GuildEd".
 "Great partnerships take time to build, and over the coming months GuildEd will combine its continuous professional development (CPD) services with that of The College [ACP] on a new, more contemporary learning management system," Ms Bou-Samra said.
Speaking about the partnership, Pharmacy Guild of Australia National President, Trent Twomey, said that discussions were had between ACP and GuildEd "for some months with the aim of delivering additional member benefits to both organisations".
A strong supporter of ongoing education, Mr Twomey said that "education and training are life's great enablers" that "open opportunities and enhance pharmacy careers".
 "By having one leading independent education provider, pharmacists and pharmacy assistants will be able to access world-class education and training to benefit the lives of our patients," Mr Twomey said.
"Over the years, GuildEd users have commented on the need for a greater breadth and depth of education.
"The partnership will provide a single home for continuing professional development (CPD) through a new and improved technology experience."