Media Release
German refrigeration brand, Liebherr has introduced two innovative new Ultra-Low Temperature Freezer models into its already extensive range of biomedical refrigerators and freezers.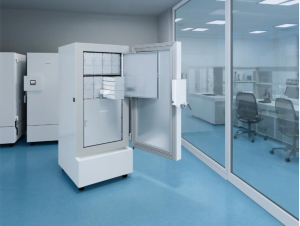 The 500 litre and 700 litre volume models offer extreme low temperatures of between -40°C and – 86°C, allowing laboratories to cover a wide range of applications, from low temperature tests of materials and mid-term storage in the -40°C to -60°C range, through to long term storage of biological products, chemical reagents, vaccines and bacteria in the ultra-low -60°C to -86°C range.
High performance, low consumption and peace of mind protection
Backed by Liebherr's world-renowned engineering coupled with the highest levels of quality in manufacturing, materials and technology, the new Ultra-Low Temperature Freezers offer the safest long-term storage solution and highest levels of performance with minimal temperature fluctuations, ensuring the quality of sensitive and valuable stored samples is always maintained.
Exceptionally Low Energy Consumption
Thanks to state-of-the-art refrigeration technology, including climate-neutral refrigerants and extensive vacuum heat insulation, the Ultra-Low Temperature Freezers also provide exceptionally low energy consumption and as a result, lower ongoing running costs.
Three Stage Monitoring and Alarm Messaging
The three-stage monitoring system consisting of integrated alarm notifications for temperature, door or mains electrical faults, and upgradable features such as CO2 emergency cooling and online monitoring, ensure the very best protection for stored items. In the event of a power failure, integrated 12-volt batteries immediately supply the electronics for continued cooling and the protection of samples.
Liebherr's Ultra-Low Temperature Freezers will be available to order in January 2021.
Text by: Andi-Co Australia and Liebherr