Uber and Reckitt Benckiser (RB) are riding together to provide riders reassurance that they can travel confidently, trusting in the protection of Dettol to help stop the spread of germs.
The new partnership that was announced today 9 June, 2020 provides Uber with access to hygiene kits, to help create a cleaner, healthier world. This additional investment from Uber is another initiative to help ensure that drivers who use the Uber app can equip their vehicles with hand sanitisers and disinfectants at no cost.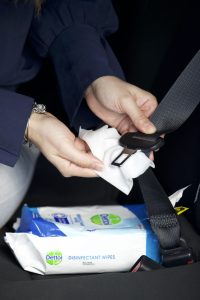 These free kits make up part of Uber's $50 million global commitment to help provide equipment for clean and hygienic rides. This makes Uber the only rideshare platform in Australia to help make disinfectants and sanitisers available for every trip.
Delivery partners who use the Uber Eats app will be offered kits made up of Dettol Disinfectant Wipes and Dettol Instant Hand Sanitiser, or be able to seek reimbursement for sanitisers, meaning Australians can order a ride or food request delivery with confidence.
"As cities begin to re-open and people turn to Uber to get around, we want to help people move with confidence," explains Uber Australia General Manager, Dom Taylor.
"We're thrilled to work with RB to ensure our partners have access to the sanitising products they need, at no cost to them.
"This initiative comes at no extra cost for riders or driver partners."
RB Health AUS Marketing Director, Henry Turgoose says, "As government travel restrictions begin to ease, many Australians are assessing their transport options, considering hygiene practices while on the move.
"The Uber app plays an important role in helping get many of us from A to B, and we're thrilled to help provide germ protection to both driver partners and rides who use the Uber app both now and beyond the restrictions."
The kits will include:
Dettol Instant Hand Sanitiser, which helps kill 99.9% of germs, without water. The rinse free, non-sticky formula is a practical solution for people needing protection on the go and on their commute. Additionally, Dettol Disinfectant Wipes kill 99.9% of bacteria on hard, non-porous surfaces, and will help protect driver partners and riders by preventing the spread of germs.