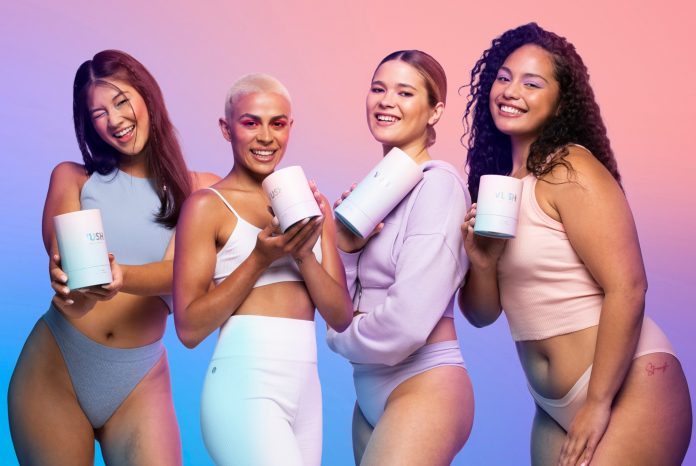 In what's been dubbed as a match made in heaven, Priceline Pharmacy has reportedly partnered with sexual wellness brand VUSH, becoming the exclusive retailer for the brands intimate care range.
"At Priceline, we're all about empowering women and normalising the conversation around sexual wellness," says Priceline's Head of Marketing, Gabrielle Tully.
"Priceline Pharmacy prides itself on creating a safe space where customers can open up to their trusted local pharmacist about any topic.
"We want women to feel comfortable chatting to our approachable team about our expanding range of sexual wellness and feminine care products."
This, along with Priceline's proud history of breaking down historically held taboos about sexual wellness, makes the partnership with VUSH, whose mantra is that there should be no shame in the self-love game, a perfect match.
VUSH is known for creating products that look chic and get people talking. The brand recently collaborated with TV personality, Abbie Chatfield, with the VUSH intimate device Abbie selling out in reportedly record time – the device will also be available on the Priceline website.
"We're so excited that VUSH intimate care products are now more accessible than ever for all Aussies," Says VUSH's Senior Business Development Manager, Coco Goldberg.
"It's incredible that VUSH customers can now walk into their local Priceline store and be able to shop the VUSH brand amongst their other self-care favoursites."
The VUSH intimate care range features fun products with cheeky names such as You Do You Intimate Care Wipes ($9.99), Feelin' Myself Intimate Gel ($15.99) and It's All Good Intimate Friendly Wash ($17.99).
The minimalistic and on trend range will fit in perfectly on Priceline shelves – especially the pretty in pink Let's Flow Menstrual Cups ($29.99).
Priceline customers can feel great knowing the range includes cruelty free and vegan friendly products.
With Priceline reportedly seeing a growth of more than 110% in unit sales in the sexual intimate wellness devices category over the last year (sales data, last 12 months ending 30 August 2021), Ms Tully says, "We're always listening to our customers and ensuring they have variety and choice when they shop with Priceline."
"We believe VUSH is going to be a top seller and will further our position as Australia's leading health destination," she says.
The VUSH intimate care range will be available in most Priceline stores across the country and the VUSH intimate device range will be available online at priceline.com.au.