In what has been 12 months in the making, Priceline Pharmacy's new flagship store in Camberwell, Victoria held its grand opening on 17 May, welcoming locals and industry heavyweights to explore the future of pharmacy.
Breaking the traditional pharmacy mould, the new flagship store offers innovative service models, tailored health solutions and exclusive product ranges that place a spotlight on health and wellbeing, along with improved pharmacist accessibility.
Improving pharmacist accessibility was a key objective.
Camberwell's pharmacists are positioned in the centre of the store – not behind a dispensary counter – at advice pods offering 360-degree patient access.
The dispensary is manned by Dispensary Technicians while a robot performs routine dispensing.
"We call it our 'next concept store' because, to create it, we had to strip away our preconceptions of what a pharmacy is and consider what a pharmacy could be," Priceline Pharmacy General Manager Andrew Vidler said.
"We started by envisioning how we'd like our customers to feel when they step into the store and how we could genuinely improve their wellbeing and that of their loved ones," he said.
The look and feel of the store are designed to make customer navigation easy.
"Our intention is to trial the various concepts within Camberwell and, once we know which moments of care resonate with our customers and strengthen the relationships we build with them, we'll introduce the concepts into our other stores," Mr Vidler said.
New pharmacy concepts
New technology such as self-serve and Click & Collect checkouts is embraced to offer extra convenience.
Additional health services are performed in private consulting spaces and include free hearing checks, four-minute non-fasting blood monitoring for diabetes and lipid panel (cholesterol) checks.
Beauty Advisors deliver complimentary beauty consultations.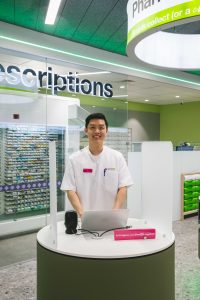 An expanded product ranging showcases premium beauty brands such as Estée Lauder and Clinique, as well as a greater focus on nutrition and wellbeing, with the low-calorie diet program, Be Fit Food meals in the freezer.
The key Beauty and Health zones feature unique colourways to create a stimulating yet straightforward shopping experience.
'Never felt more empowered' 
The store had a soft opening of its beauty section in April, with the dispensary opening in May.
Pharmacist-in-Charge Minh Thai says customer feedback in the store's first weeks of operation had been enthusiastic.
"Customers love the crisp, bright store and how easy it is to access advice and find what they're looking for," he said.
"By encouraging patients to chat with our pharmacists at pods in the centre of the store, we've noticed they're more comfortable opening up to us.
"Community pharmacy isn't simply filling scripts or finding products to treat minor health issues, it's providing ongoing and comprehensive wellbeing support for patients and their families. I've never felt more empowered to do this."