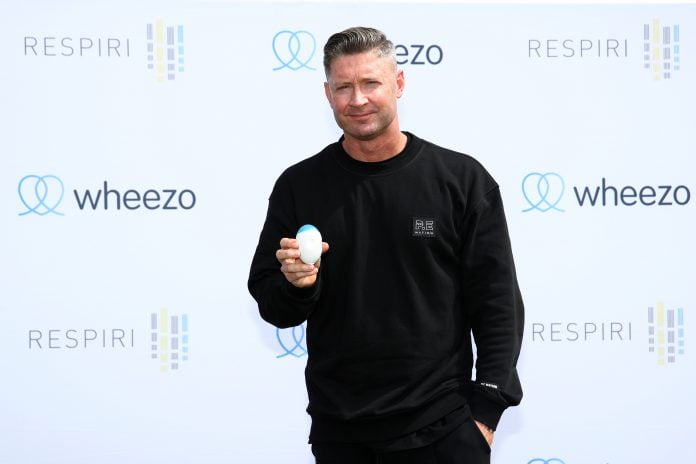 Australian cricketer Michael Clarke officially launched wheezo, a small electronic hand-held device and smartphone app, designed to extend care for asthma patients beyond the clinic.
As wheezo's ambassador Mr Clarke says he had little knowledge about asthma and the impact it can have before his daughter was diagnosed at the age of two. With no family history, the diagnosis came with a surprise.
"The more informed I am, the better I can understand her asthma and what's going on. The advantage of the wheezo device and app is it provides an inexperienced father, who has never suffered asthma, a lot of very powerful information.
"With the device being so easy to use and the app on your phone, wheezo allows me to monitor my daughter's asthma whenever, wherever.
"The information that I receive from wheezo helps me make decisions. My daughter is very active, so being able to work out how she is feeling, and how she is going is very helpful.
"We welcome any solution that can help us manage her asthma and allow her to live a normal life. I want her to go outside and play, jump on the trampoline or swim in the pool so it's comforting to have the right information close at hand," he says.
'Helps fill a gap in the market'
Marjan Mikel the CEO of Respiri, the e-health technology developer behind wheezo, believes digital technology can play an important role in the self-management of asthma.
He says the Australian designed and manufactured device fills a gap in the market, allowing users to better understand and manage their asthma between doctors' appointments.
Together the wheezo device and app records breathing for 30 seconds and identifies wheeze like a doctor listening with a stethoscope.
It can help patients monitor and manage their asthma symptoms and triggers.
The app stores the patient's Asthma Action Plan, medication use and local, real-time weather information such as pollen and pollution levels.
Wheezo also allows patients to share their asthma data with their healthcare professional.
Over time, wheezo aims to build a clearer picture of their asthma.
Study: wheezo vs clinician-based stethoscope measurement
Prior to its commercial release, Respiri commissioned a clinical study at two Melbourne hospitals to compare wheezo to a clinician-based stethoscope measurement of wheeze in asthma and chronic obstructive pulmonary disease patients.
Physicians used the device to assess wheeze severity in 56 patients admitted with pronounced airway disease and a clinically detectable wheeze.
The findings were successfully correlated with an assessment of wheeze severity using a stethoscope.
Distributed in pharmacies nationally
To assist with bringing wheezo to market, Respiri has partnered with pharmaceutical company Cipla to sell and distribute wheezo in pharmacies nationally.
For more information visit: wheezo.com