Mater Nappies has secured a spot in the country's top 10 products of the decade, and have been named as the most trusted brand in baby care among Australian parents.
The products are the only hospital-developed nappy range and has been listed amongst iconic brands including Vaseline, Berocca and Heinz, as the leading product in baby care by consumer awards company, Product of the Year.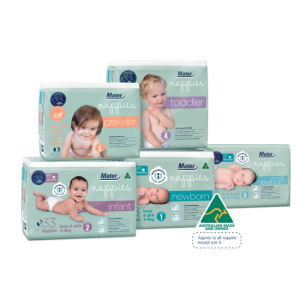 Product of the Year's top 10 products of the decade is the world's largest consumer-voted award for product innovation and aims to guide consumers by serving as a shortcut for shoppers – saving them time and money.
Mater Nappies are part of a wider maternity and baby care product range to support mums with high quality and locally made products, developed by Australia's largest maternity service, Mater Mother's Hospitals.
"Our products were carefully curated with feedback from over 3000 midwives and mums across Australia," says Mater's Director of Mater Products Tania Alves.
"Combining this focus on collaborating with our consumers with our product quality, Mater Nappies enable our teams to continue the exceptional care from Mater Mothers' Hospital into the home.
"Being named as one of the best in the decade gives us a great opportunity to thank all those who made Mater Nappies possible."
Proceeds from Mater Nappies support Mater Little Miracles to fund important research projects that will give babies throughout Australia the best possible start in life.
The Mater Baby Products' range is available locally at select Woolworths Supermarkets and pharmacies and nationally via our online store.
For retail stockists, please visit materbabyproducts.com.au or call 1300 162 837.