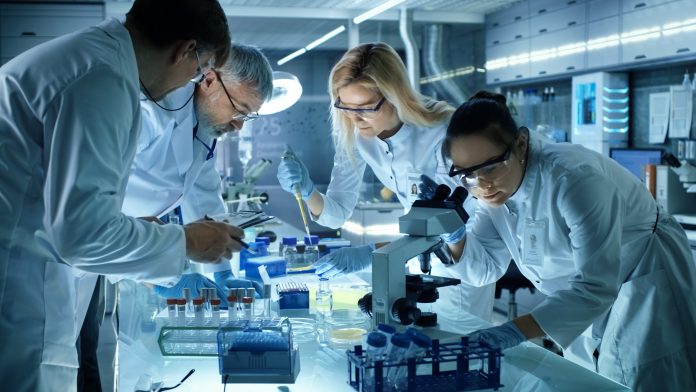 In what has been dubbed as a "great day for science and humanity" by Pfizer Chairman and CEO, Dr Albert Bourla, Pfzier Inc, and its German partner, BioNTech SE today announced that their mRNA-based vaccine candidate, BNT162b2, against SARS-CoV-2 has demonstrated an efficacy rate of more than 90% against Covid-19.
"The first set of results from our Phase 3 Covid-19 vaccine trial provides the initial evidence of our vaccine's ability to prevent Covid-19," adds Dr Bourla.
"We are reaching this critical milestone in our vaccine development program at a time when the world needs it most with infection rates setting new records, hospitals nearing over-capacity and economies struggling to reopen."
This result is based on the first interim efficacy analysis conducted on 8 November 2020, by an external, independent Data Monitoring Committee (DMC) from the Phase 3 clinical study
Reportedly, the available case count for analysis reached 94 and the DMC performed its analysis on all cases.
The case split between vaccinated individuals and those who received the placebo indicates a vaccine efficacy rate of about 90% at seven days after the second dose, meaning that protection is achieved 28 days after the initiation of the vaccination, which consists of a two-dose schedule.
So far, the DMC has not reported any serious safety concerns and recommends that the study continue to collect additional safety and efficacy data as planned.
The Phase 3 clinical trial of BNT162b2 began on 27 July and has enrolled 43,538 participants to date, 38,955 of whom have received a second dose of the vaccine candidate as of 8 November 2020.
While these results relate to participants without prior evidence of Covid-19 infection, the trial is continuing and will also evaluate the potential for the vaccine candidate to provide protection against Covid-19 in those who had had prior exposure to the virus, as well as vaccine protection against severe Covid-19 disease.
"The first interim analysis of our global Phase 3 study provides evidence that a vaccine may effectively prevent Covid-19," says BioNTech co-founder and CEO, Professor Ugur Sahin.
"When we embarked on this journey 10 months ago, this is what we aspired to achieve.
"Especially today, while we are all in the midst of a second wave and many of us in lockdown, we appreciate even more how important this milestone is on our path towards ending this pandemic and for all of us to regain a sense of normality."
A caution check
Although the news of the promising Covid-19 vaccine has generated global excitement today, and while Retail Pharmacy magazine reported that in March 2020 that Pfizer had called on the biopharmaceutical industry to join the company in committing to unprecedented collaboration to combat Covid-19, as reported by news.com.au earlier today, Dr Norman Swan, host of the ABC's Radio National Health Report and Coronacast provided a caution check this morning, speaking with ABC News Breakfast.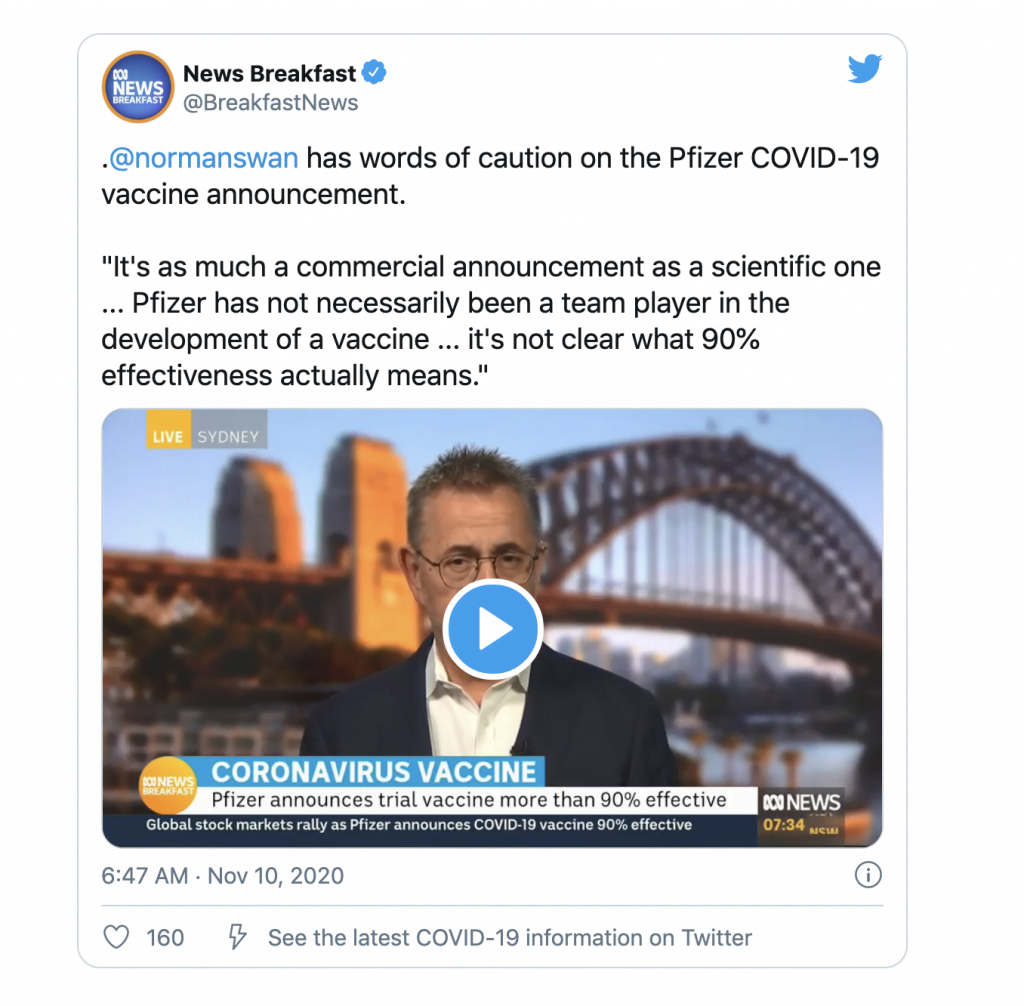 "I hate to rain on the parade but there are a couple of things we need to be careful of … this is a press release and it is a commercial announcement as much as it is a scientific announcement," Dr Swan is quoted as saying.
"The other vaccine manufacturers that are at the front have shared the same trial protocol – in other words, they're doing their randomised trials in the same kind of way, which means they that when they get the results, it will be much easier to compare what they've found with each other and find out which is the best vaccine. Pfizer has not been part of that.
"As you can see from the Pfizer results, it doesn't take very many patients to know that it works. It takes a lot of people to know it's safe.
"You go too early for an approval and you're not following people for the wash-out period, for two months or so, to know it's safe after they've had their last dose. Remember, it is a two-dose vaccine," cautions Dr Swan.
Continuing to accumulate safety data
According to the statement released by Pfizer, Pfizer and BioNTech are continuing to accumulate safety data and currently estimate that a median of two months safety data following the second dose of the vaccine candidate will be available later this month.
The statement adds that in addition to this, participants in the vaccine trial will continue to be monitored for long-term protection and safety for an additional two years after their second dose.
Retail Pharmacy magazine previously reported that Pfizer Australia and BioNTech SE have an agreement with Australia to supply 10 million doses of their vaccine candidate against Covid-19 in 2021.
Deliveries are planned in 2021 subject to clinical success and local regulatory approval.
More as the story unfolds.