Known for her role as 'Hannah Baker' in the popular 13 Reasons Why Netflix series and for playing strong young female leads, Katherine Langford has been announced as L'Oreal Paris' newest international spokesperson.
"L'Oreal Paris is the brand that creates what's next in beauty with an essential message: everyone is worth it," says Ms Langford.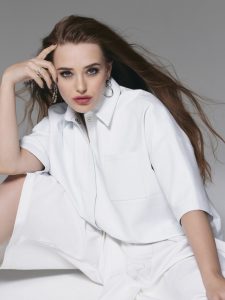 "It is all about learning how to love yourself, how to be bold, how to be confident!
"People my age should not be afraid to be themselves, because that's what makes us beautiful."
A positive role model for all women – she regularly speaks out for tolerance, raising awareness about gender equality – Ms Langford is also known for using her reach to foster online conversations about confidence issues.
The talented 24-year-old is said to perfectly embody the values of L'Oreal Paris with her positivity, talent and convictions, with the brand saying it's proud to welcome Ms Langford to the family.
"We are thrilled to welcome Katherine to the L'Oreal Paris family," says Global Brand President L'Oreal Paris, Delphine Viguier-Hovasse.
"She is a role model, a talented and confident young woman using her platform for positive influence.
"Katherine's star will only continue to rise. As a young radiant heroine who encourages people to believe in themselves, she's the perfect spokesperson to embody our signature brand message: we are all worth it."
Ms Langford was born in Perth, Australia, in 1996. Before her acting career she excelled as a swimmer, ranking nationally, and studied both music and drama.
Since launching her career Ms Langford has starred in a number of television and film productions, including her breakout role in the worldwide phenomenon, 13 Reasons Why. Next up, she retells the story of another heroine, 'Nimue', in Cursed, which is set to be released on 17 July 2020.
"When you know you are worth it, you live your life to the fullest," adds Ms Langford.
"Having always valued empowerment, I can say that I am very grateful to be part of such an inspiring group of women spokespersons [at L'Oreal]."