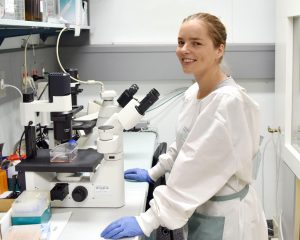 "A career in science can be exciting and fulfilling and gives you the potential to make a real impact in the world," says Dr Jessamy Tiffen, a senior member of the Centenary Institute's Melanoma Immunology and Oncology Program.
"There will be barriers to overcome but if you have a curiosity about the world we live in and are prepared to work hard, you will just be amazed where your scientific career can take you."
International Day of Women and Girls in Science is held on February 11 each year.
It is part of a United Nations General Assembly resolution, officially recognising the critical role that women and girls play in science and technology.
The UN hopes to see full and equal access and participation in science, for women and girls across the globe.
A cancer researcher
Dr Tiffen is focused on trying to better understand melanoma, a disease responsible for more than 1,700 deaths each year in Australia.
"Understanding the mechanics behind melanoma treatment resistance is essential to developing new drugs and finding new cures which will help save lives."
Dr Tiffen explains that her early interest in science came from her grandfather who was a microbiologist.
"We used to talk about his work around the kitchen table and discuss his latest findings (on footrot!), so the importance and need for research and scientists was communicated to me at an extremely early age.
"His love for science rubbed off on me!"
Challenges
It's noted however that gender disparity still remains an issue in the Australian scientific community.
"Unfortunately factors such as stereotyping of women, a lack of flexibility in working arrangements for mothers and a lack of female role models still persists in our industry," Dr Tiffen says.
"The Centenary Institute is an academic partner of Franklin Women, an organisation supporting women working in health and medical research careers.
"We need to encourage a new generation of female scientists to help tackle the major challenges of our time, to break-down barriers and to make it to the top."