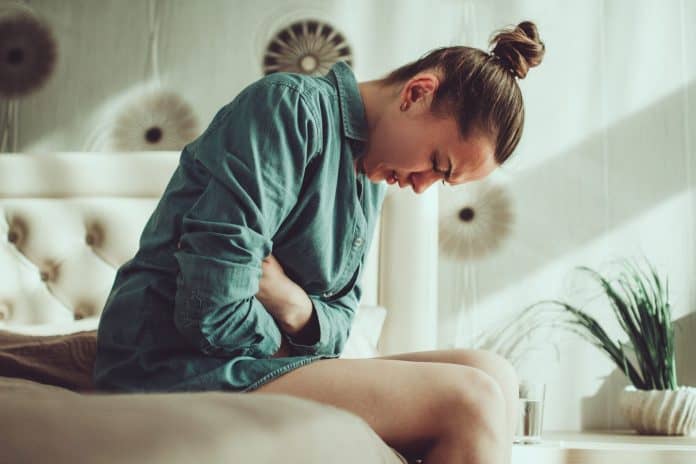 Approximately 10% of Australian women are affected by endometriosis, which is a painful condition that occurs when endometrial tissue grows outside of the uterus – this tissue forms legions on the ovaries, bowel and pelvis, and at times, spreads to other organs.
It's a condition that causes severe pain, typically with periods but also with sex, passing urine and bowel movements, and can cause heavy or dysfunctional menstrual bleeding.
The tricky thing with endometriosis is that symptoms of the condition may often be vague, so diagnostic delays are reportedly common.
With keyhole surgery being the current standard option to reliably diagnose the three types of endometriosis, it's said that medical professionals are often reluctant to subject women to surgery (due to the risks involved) unless the signs persevere over a long period.
However, new research led by Alison Deslandes from the University of South Australia, who is exploring alternative diagnosis options for women with deep infiltrating endometriosis (DIE), could turn this around.
"Undergoing an invasive procedure is stressful, even more so if it proves unnecessary," says Ms Deslandes.
"In recent years, transvaginal ultrasound (TVUS) has begun to play a role in the diagnosis of DIE and ovarian endometriosis, but it's typically only offered by specialised gynaecologists."
The research led by Ms Deslandes is investigating the accuracy of TVUS and whether sonographers could perform the procedure in an outpatient facility, making it more accessible to women who are experiencing symptoms of endometriosis.
"In cases of DIE, extensive adhesions of the pelvic organs may not be discovered until the time of surgery, often requiring additional specialist surgeons.
"TVUS is a low cost and readily available imaging technique, which could be used to identify more complex conditions, aiding surgery, as well as diagnosing the condition non-invasively."
In a review of 35 articles, exploring the accuracy of TVUS for deep infiltrating endometriosis, Ms Deslandes says it rates highly as a valuable, accurate diagnosis tool, apart from DIE detection in the bladder, which requires more data.
"We now need to take this a step further to see if sonographers could perform the same procedure as gynaecologists to the same level of accuracy.
"This would reduce diagnostic delays and give women with DIE a non-invasive yet highly accurate diagnostic test," says Ms Deslandes.
To read the research, which was published in the Journal of Ultrasound Medicine, visit: onlinelibrary.wiley.com/doi/abs/10.1002/jum.15246
To view a video explaining the research in more detail, visit: youtube.com/watch?v=d0df5lgwSJU&feature=youtu.be