Events
With consumers now increasingly aware of global environmental and health issues, the demand for chemical-free, sustainable haircare products is continuing to grow at a rapid pace.
A range of pharmacy-stocked innovative hair care products will be on display at B2B event the 2021 Naturally Good Expo on from 30-31 May at Sydney's ICC.
Visiting retailers will be able to see, sample and experience the most diverse businesses and producers across the beauty and personal care industry including Herbatint, Dr Bronners's, Weleda, Harvest Garden, Nude Beauty Products, Beauty Sensation Australia, Viva La Body and Helios Health & Beauty.
Having produced soap for almost 40 years, exhibitor Clover Fields recently released their Shampoo With a Purpose range of solid shampoo-conditioner bars which has been very popular.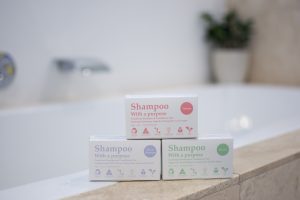 Available through 700 stockists, and sold nation-wide across pharmacies, the bars are available in four varieties – Colour Treated, Dry or Damaged, Volume and OG. Product Developer Geneva Valek said each all-natural bar 135g bar saves the equivalent of six plastic shampoo or conditioner bottles going to landfill and chemicals washing down the drain.
"There is a lot of water in liquid shampoo and conditioner, however with a solid bar you just add the water yourself and lather away. We add only eco-sustainable ingredients such as Kakadu plum, jojoba, avocado, almond oil, argan and shea butter and have special formulations depending on your hair type.
"The feedback from customers has been fantastic, with people saying the two-in-one bar cleans their hair just as well as a liquid and leaves it beautifully conditioned. Nowadays consumers – particularly millennials and Gen Z are really environment and health aware and will happily seek these products out."
Geneva adds that the bars – which also have a smaller travel pack option – have also been great for travellers who don't want to cart around heavy bottles, and for both the disabled and the elderly who may find bars easier to use than bottles.
"Ease of use, sustainability, lack of packaging, chemical-free really appeals to a large proportion of the market. It's a big reason why the bars have been so well received and why we feel bars will become more commonplace in the hair care industry in years to come."
Text by: Naturally Good Expo 2021