As part of its 2021 fundraising campaign, Priceline Pharmacy is encouraging Australians to head in-store between 1-26 July and to round up their purchases to help raise money and awareness for the Priceline Sisterhood Foundation.
Celebrating its 10th year in 2021, the Sisterhood Foundation supports various charities, including Perinatal Anxiety & Depression (PANDA), Raise Foundation, Dementia Australia, Look Good Feel Better and Motherless Daughters Australia.
To date, the Foundation has raised more than $7 million for charity since its inception, with the help of Priceline customers and the community.
"Over the past 10 years, Priceline Pharmacy has been committed to providing the community with ongoing support through our charity partnerships.
"This commitment is demonstrated by each of our stores every year when we launch our Priceline Sisterhood Foundation campaign – together, they've helped raise over $7 million (and counting!) for our charity partners," says General Manager Priceline Pharmacy, Andrew Vidler.
Lend your voice to the cause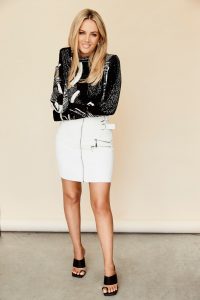 As part of this year's campaign, customers can lend their voice to the cause by sharing stories, words and anecdotes about what Sisterhood means to them.
These will then help ARIA Award-winning singer-songwriter, Samantha Jade form the lyrics to write and record a special 'Sister Song', to be released at the end of the campaign.
At the end of the month, the Priceline Pharmacy store with the largest donation to the Foundation will win an exclusive performance by Samantha Jade – so, get behind your local Priceline Pharmacy store for its chance to win!
"This year we're extremely excited to work with ARIA Award-winning singer-songwriter Samantha Jade and to engage our customers with an interactive experience," says Mr Vidler.
"Not only is this an incredible opportunity to garner life-changing donations, the 'Sister Song' offers an exciting opportunity to harness the power of shared storytelling, making Sisters across the country, visible and more importantly, heard."
Priceline's ambassadors have also banded together to create a range of limited-edition lipsticks with all profits going to the Priceline Sisterhood Foundation.
Chrissie Swan, Ita Buttrose, Tanya Hennessy, Lindy Rama-Ellis, Olivia Molly Rogers and Sarah Jane Adams have each created their own signature shade of lippie which customers can purchase in-store or online from 1 July.