Pharmacy assistant, Bridgette Atkinson from Babinda Pharmacy, has been chosen to represent Queensland at the National Finals of the 2019 Pharmacy Guild of Australia/Maxigesic Pharmacy Assistant of the Year Award (PATY).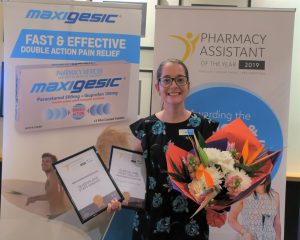 In its 13th year, PATY, the premier award for Australian pharmacist assistants, celebrates the best in community pharmacy. 
Ms Atkinson will represent Queensland at the National Finals to be held at the 2019 Pharmacy Assistant National Conference on October 12 in Brisbane.  
"This prestigious award was created to recognise pharmacy assistants who go the extra mile to help their customers and are proactive in developing their own careers," said the Pharmacy Guild of Australia's acting National President, Professor Trent Twomey. 
Ms Atkinson was selected as Queensland State Winner from 20 State Finalists who showcased their pharmacy knowledge and skills in customer service and leadership at the recently held Queensland workshop. 
Professor Twomey congratulated Ms Atkinson for her strong commitment to her role and recognised her as one of Queensland's top pharmacy assistants. 
"It feels amazing to be the Queensland State Winner! It's been an unreal experience so far," said Ms Atkinson. "I've enjoyed networking and getting to know the other State Finalists."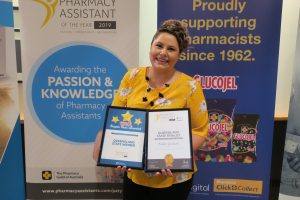 Katie Godwin from Amcal Pharmacy Caboolture, was announced as Queensland winner of the Glucojel Super Star Award at the workshop and will be in the running for the Glucojel Super Star National title at the national conference. 
"Over the past three years, we have had the pleasure of support pharmacy assistants in their careers through PATY," added PATY major sponsor AFT Pharmaceuticals Pty Ltd's General Manager (Australia), Calvin MacKenzie. "The calibre of nominees is always extremely high."