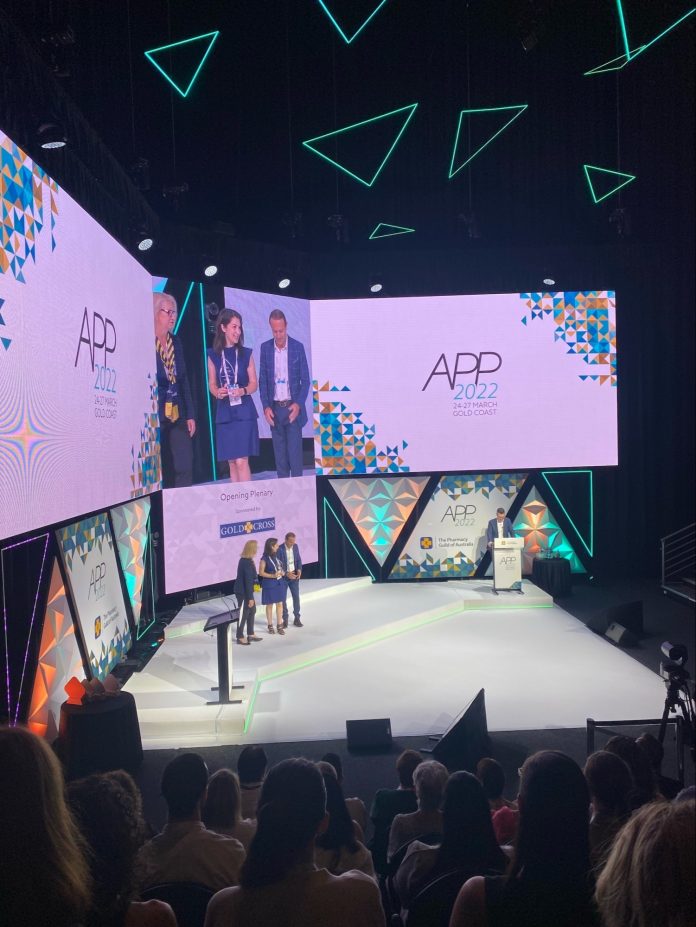 Firouzeh (Fi) Farihi Zadeh, from Alive Pharmacy Warehouse Westcourt in North Queensland, has been announced as the 2021 MIMS/Guild Intern of the Year.
The announcement came during the Opening Plenary of the 2022 Australian Pharmacy Professional Conference & Trade Exhibition (APP2022) on Thursday morning (24 March).
This year saw a record number of entries for the award, with Fi's submission and interview a standout, clearly demonstrating her passion and interest in health education for Cairns community members with a focus on addressing Covid-19 vaccine hesitancy.
Fi has worked with many community members to ensure they understand the benefits of being vaccinated and protecting themselves against Covid-19.
"I was fortunate to have the opportunity to be part of the Far North Queensland Covid-19 School Vaccination Program," Fi said on winning the award.
"As a team, we went to 13 schools and administered over 1335 Covid-19 vaccines to students 12 years and older.
"In addition to this, I also visited homeless shelters and provided vaccination services to residents, as well as providing education to them about the Covid-19 vaccine."
'The role of a community pharmacist goes well beyond dispensing'
The Pharmacy Guild of Australia Executive Director, Suzanne Greenwood said the award recognises dedicated and innovative intern pharmacists and their work in the community.
"I congratulate Fi as the 2021 MIMS/Guild Intern of the Year. The role of a community pharmacist goes well beyond dispensing and Fi's work and achievements demonstrate that," said Ms Greenwood.
"Community pharmacies are easily accessible primary health care destinations.
"Because of that, community pharmacists play an integral role in health education for their patients and are trusted sources of information.
"It is encouraging to see Fi at the early stages of her career being proactive about health education for her local community – especially on the challenging topic of vaccine hesitancy."
'Passion to help community clearly evident' 
Robert Best, the CEO and Executive Director of MIMS Australia and New Zealand congratulated Fi and said MIMS Australia was pleased to continue to sponsor an award that supported the future of Pharmacy.
"For nearly 60 years, MIMS has been committed to supporting young healthcare professionals like Fi across Australia from all parts of the healthcare ecosystem," Mr Best said.
Mr Best says that "Fi's passion to help her community was clearly evident".
"Fi's passion around providing public education to tackle vaccine hesitancy in the community, especially among the Indigenous community was very impressive – especially to actively participate in the first-ever Far North Queensland Covid–19 high school vaccination program and her participation for vaccination within the Cairns homeless hub," he said.
'Interns the future of pharmacy'
On winning the award, Fi will receive a $4500 cash bursary courtesy of MIMS Australia to continue to pursue her interest in consumer health education.
When asked what she plans to do with the prize money, Fi said "she would like to, firstly, educate herself on alcohol other drugs services and programs to then empower the Indigenous community of Cairns and surrounds to better assist them in accessing health care in this area"
"It is therefore with pleasure that we continue to support the MIMS/Guild Intern of the Year Award, as interns such as Fi are the future of Pharmacy!"Mr Best said.