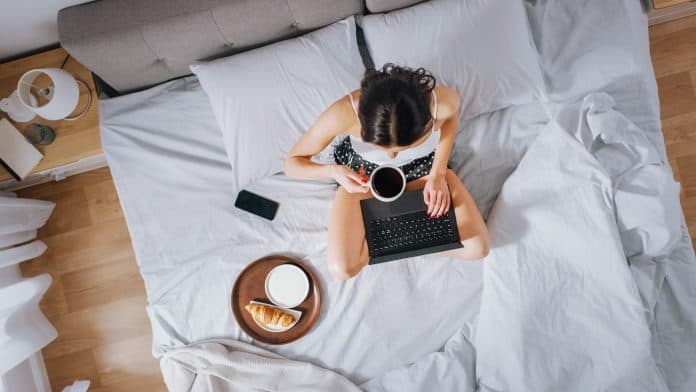 A new report has revealed that more Australians are spending more time working from bed during the pandemic.
The Ecosa poll data shows that 40% of respondents have increased the amount of time they spend in bed as a result of restrictions due to Covid-19 with a seventh (13%) working more from bed and a quarter (27%) just relaxing more under the covers.
Alice Allen, spokesperson for Ecosa, one of the country's largest online bed retailers, says there has been a surge in demand throughout the country with more time being spent in bed.
She says as a result, the company has just had its best week of sales in its five-year history.
Ms Allen says the Australian market has grown more than 100%  per month over the past 12 months and the recent lockdown has accelerated that even faster with a sales record which saw more than 3,000 products shipped in a single week.
"This trend is in line with other international studies which show one in four people working from home during the coronavirus lockdown admit to at some point logging on from their bed.
"The research has found that after the dining table (45%) and couch (40%), 25% of respondents admit to working from their bed.
Ms Allen says a new research program, The International Covid-19 Sleep Study (ICOSS), is underway at the University of Oxford which is investigating the impact of Covid-19 pandemic on sleep in adults.
Quality sleep she says is essential for our physical and mental health and the new survey will examine what sleep problems have emerged and how sleep patterns have changed along with which groups are most affected.
Ms Allen says the data will be shared with a large international database to improve understanding of the global impact of Covid-19 on sleep.