Perhaps for many of us it wasn't until the Covid-19 pandemic arrived, and the panic buying that ensued, that we gained an insight into what it's like to go without the basic essentials.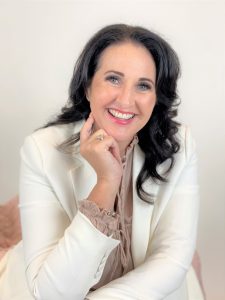 But for many, going without is an ongoing reality – that often compromises one's dignity. This month we speak with Rochelle Courtenay, founder of Share the Dignity, a charity on a mission to 'ensure everyone is afforded the dignity in life that so many of us take for granted'.
Can you tell us a little bit about your background and how you came to start Share the Dignity?

I was reading an article in 2015 that Mamamia had written about how there were 48,000 women who didn't have somewhere safe to call home. They also didn't have access to sanitary items, and they were using socks and newspaper, and … toilet paper to deal with their periods, and I just couldn't believe that that was happening here in Australia. And after I Google searched, [I discovered] it wasn't actually the first article written about the problem. But no one had done anything about it. So, I had my daughter make up a poster, and [during that time] I had my own personal training business and asked all my clients to bring me a packet of pads or tampons for every wine they'd had that month, and … I had great clients.
I had about 40 clients. We ended up collecting about 450 packets of sanitary items, which we gave out to five different charities in the local area. But it wasn't like we were giving them a warm jacket that kept them warm. This is a monthly problem. To be honest, the problem is so much greater than I ever imagined.
Can you tell us the story behind the name Share the Dignity?
It was about what was less dignified: stealing or going without. I just didn't think there was anyone in Australia who wouldn't be empathetic to another woman or girl who was having to go without the basic essentials. So, if we all knew about it [the problem], we could share the message and share the dignity.
What was the response when you started the organisation?
I don't think there's a woman in Australia who wouldn't be empathetic to somebody having to use socks or newspaper to deal with their periods. So, whenever you told somebody, they were like, 'Oh my God, I'm embarrassed that I never thought about that', which is what I was like. I questioned myself: 'How could I never think about that?' Or actually having somebody write that article about the problem [in Mamamia] and people reading it, but no one was doing anything about it.
So, it just grew from a local way of sharing the dignity to nationally, really overnight. It didn't even [start] with tiny wings that just grew. It just grew great big wings and grew. It was one of those things that you couldn't 'unhear'. People wanted to be part of the solution, which was that if you could donate, we could get them to the charities that work with the women, and we could eradicate period poverty.
To read the full interview, click here and view Retail Pharmacy Assistants August.