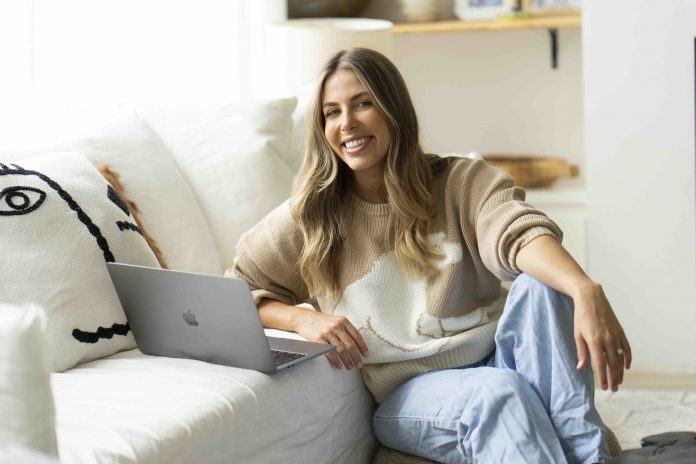 Health professionals were once the first port of call for anyone looking to address a health concern. Now, with social media giving voice to the masses, advice is often given (whether solicited or not) by self-proclaimed wellness gurus.
Our feeds are filled with unproven tips for weight loss, reducing bloat, boosting energy, or improving our complexion. While there's a lot of great, scientifically supported content out there, there's even more wankery.
Lyndi Cohen, aka The Nude Nutritionist, is a dietitian and nutritionist focused on calling out nutrition nonsense while contributing a dose of common sense and evidence-based information.
She recently launched a podcast, 'No Wellness Wankery', to do just that.
"There's so much misinformation out there, with nutrition fads emerging that contradict what we were told to do last week," she told Retail Pharmacy Assistants.
"It's hard to keep up and know what is wellness or wankery. And the best way to drown out nutrition nonsense is to be louder."
Ms Cohen, who co-hosts the podcast with digital content creator Jenna D'Apice, says it was important for the podcast to be informative, and fun and break down some of the prevailing health myths that can prevent people from being healthier.
"Each episode, we tackle a frequently asked question or respond to a new health trend to reveal whether it's wellness or wankery," Ms Cohen said.
"A lot of our content is informed by the questions I get sent from real people wanting to know how they can be healthier without getting trapped in a diet."
Ms D'Apice, as someone at an earlier stage of the health knowledge journey than Ms Cohen,  will often ask questions that a listener might be seeking answers to.
"As a result, people will often email us explaining how listening to the podcast has helped them realise they have lingering diet habits, even though they thought they weren't dieting anymore," Ms Cohen said.
"It's divine to hear how listeners are finding the podcast is refreshing and relatable, with advice that feels doable and relatable."
Healing food relationships 
Ms Cohen's keenness to bust misconceptions stems from her own experience. She says she began exploring nutrition "for all the wrong reasons".
"I became a dietitian because, from the age of six, I was told 'you'd be pretty if you lost weight' so many times, I started to believe it," she said.
"By 11, I was placed on my first diet and so began my turbulent relationship with food."
By the age of 21, she'd been sent to multiple nutritionists to deal with her "weight problem" and had developed an eating disorder.
"I rationalised that being a dietitian would be the perfect profession for my obsession," she said.
"But through studying nutrition, I realised that food is so much more than what you weigh, or balancing calories. I began to heal my relationship with food, and decided to help others struggling with disordered eating and body image."
These days, Ms Cohen helps others realise "they don't have to give up 95 per cent of their life to try and weigh five per cent less".
"I spent my early years subscribing to diet advice that messed with my health, boosted my cravings for the very foods I was trying to avoid and led to weight gain – as it does for many," she said. "Once I became a dietitian, I knew there had to be a better way."
Having been a yo-yo dieter who struggled with her weight and felt the constant pressure to weigh less, Ms Cohen "gets it" when people say they're sick of starting a new diet every Monday or don't want to take an all-or-nothing approach when it comes to food.
"Traditional dieting advice has messed with our relationships with food and our bodies, and I'm on a mission to help us adopt healthy habits that stick around longer than a celebrity marriage," she said.
Misconceptions 
Of all the diet nonsense that abounds, Ms Cohen says the most harmful misconception is that you need to have "a perfectly flat stomach and a cellulite-free tush" to be healthy.
"Our current body ideal is so unattainable, and it's causing us to perpetually hate our bodies, no matter how much weight we lose," she said.
"It leads to disordered eating, poor body image, and years of trying failed diets and weight cycling, which research shows is worse for us than simply existing in a larger body."
Then there are the pervasive myths, which may not necessarily be harmful but can waste the time and/or money of those that cling to them.
"The idea that you need to periodically detox your body is a pervasive myth," Ms Cohen said.
"Meanwhile, your liver, kidney, skin and lungs are working all the time to help 'detox' your body. Lemon water doesn't detox your body based on any evidence. However, it does erode your teeth!"
Ms Cohen's advice to pharmacy staff looking to help customers embrace wellness is to rethink the "outdated and pervasive idea" that you can judge how healthy someone is by looking at them, particularly assessing their weight.
"BMI [body mass index], which is a simple metric looking at someone's height and weight, fails to consider the health of an individual," she said.
"BMI doesn't tell you how much energy they have, whether they like themselves as people, or how fit they are.
"We assume thin people are healthier and larger people are less healthy, but that's not the case. If you see someone who's heavier, listen to their problems with empathy and don't bring up their weight unless they do.
"Trust me, they've tried to lose weight. They're aware they need to lose weight, but given that 96 per cent of diets fail in the long term – many of them leading patients to gain more weight than before they dieted – we need to avoid unsolicited comments around weight that could lead to stigma or poorer outcomes in healthcare."
Listen and follow
'No Wellness Wankery' is available wherever you get your podcasts. Ms Cohen and D'Apice release two episodes each week and say there's no end to the series in sight.
"We'll continue to produce the podcast, provided it's useful for others and it's adding value," Ms Cohen said. "Unfortunately, there are also new diet fads as old-school diets get rebranded and resold to us under a new name. And so, I'm sure there'll always be more wellness wankery to debunk!"
You can follow Ms Cohen on Instagram @nude_nutritionist or visit lyndicohen.com for free recipes and considered content to help you break up with diets and improve body image.
This feature was originally published in the July issue of Retail Pharmacy Assistants e-magazine.