K-beauty (short for Korean beauty, using the K- prefix now attached to much of South Korean origin that is popular overseas) is a catch-all term for skincare products and cosmetics made in the Asian republic.
K-beauty skincare products differentiate themselves through their novel, innovative multi-step regimens with an overall focus on skin health, natural origin and ingredient efficacy.
Data from Mintel Market Sizes shows that the South Korean facial care market is worth an estimated US$4.6 billion in 2022 and is expected to grow to US$4.8 billion in 2024. Further, according to Mintel Global New Products Database (GNPD), the number of registered K-beauty product launches has been growing in Australia since 2014 when Mintel first found K-beauty in the market.
"According to Mintel GNPD, the number of registered launches more than doubled in 2018 compared with the previous year," said KinShen Chan, Mintel Senior Analyst, Beauty & Personal Care, South APAC. "Since then, K-beauty has become more significant in Australia."
K-beauty expert and The Korean Beauty Show podcast host Lauren Lee founded the K-beauty platform Style Story in Australia in 2014. She says K-beauty was relatively unknown at the time and not easily accessible.
"Since then, Korean beauty as a category and individual K-beauty brands have skyrocketed to fame," she said. "The Korean cosmetics industry is now widely recognised as world-leading and many Western brands now go to Korea to develop and produce their formulations."
Globally, the availability of registered K-beauty products is widespread, from such stockists as specialist retailers (eg, Sephora), pharmacies (eg, Chemist Warehouse), and department stores (eg, Target) and supermarkets (eg, Woolworths), and across the internet.
The K-beauty philosophy 
Korean beauty is quite different to traditional Western beauty routines in several key areas. Ms Lee says Western cosmetics tend to focus on using makeup techniques to cover flaws, whereas the Korean philosophy is that beauty begins with great skin.
"Korean products, therefore, focus on fixing any underlying skin issues first rather than covering them with makeup," she said. "Studies reveal that approximately 89 per cent of Korean women spend their money on skincare rather than makeup."
Korean skincare also tends to focus on gentle layers that soothe and nourish the skin, making sure it's properly hydrated – in contrast to Western skin care's emphasis on "exfoliating, anti-ageing and using harsher topical ingredients to buff away old skin".
"There's less of a focus in K-beauty on high-strength exfoliating ingredients," Ms Lee said. "Instead, each product in a Korean beauty routine serves a specific purpose."
Key ingredients 
Korean skincare focuses on using innovative ingredients that work to improve a variety of skin concerns, including redness, irritation, lack of hydration, dull skin and fine lines.
"A lot of money is poured into researching original ingredients and their functionality in skincare," Ms Lee said. "This helps new Korean products stand out among a sea of competition in both Korea and abroad."
Mr Chan says some of the key ingredients associated with K-beauty include:
Cica (Centella asiatica) – a medicinal plant containing active compounds that helps promote collagen production and aid in skin-soothing properties.
Yuza – a citrus fruit rich in vitamin C that helps inhibit melanin synthesis and reduce hyperpigmentation to promote skin brightening.
Microbiome technologies (pro, pre and post-biotics) – eg, Lactobacillus acidophilus, aimed at helping to balance the skin pH to build a healthy skin barrier.
Ingredient trends in Korea change quite quickly, adds Ms Lee, but in recent years have included such varied substances as snail mucin, galactomyces (yeast extract), bee venom, ginseng, cherry blossom and fermented ingredients.
"Australia is usually a few years behind Korea in terms of the trending ingredients, so Korean snail mucin products are still very popular in Australia despite not having been popular in Korea itself now for a few years," Ms Lee said.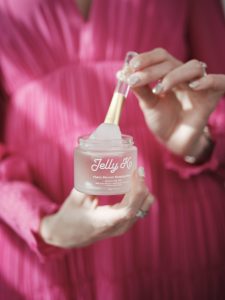 Many Korean beauty products contain ingredients of natural origin, with a big shift in recent years towards both vegan and cruelty-free products. Many brands are also moving towards more sustainable and environmentally friendly options, says Ms Lee, "including using recycled materials in their packaging and offering refill stations".
"Brands like Purito, Rovectin and Innisfree use recycled paper in their packaging, and other brands, like One Thing, use mostly vegan ingredients," she said.
Mr Chan says Mintel has observed a trend in the rise of ethical claims in K-beauty products.
"Data from Mintel GNPD shows that ethical claims such as 'environmentally friendly package', 'sustainable' and 'recycling' have been rising since 2019 on registered skincare launches in South Korea," he said. "It's worth noting that one out of three Australian consumers is willing to trade up their beauty product if it's environmentally friendly, re-emphasising the importance of highlighting such features."
Beauty forecast 
Mr Chan says K-beauty products with natural ingredients will continue to trend in the year ahead in Australia, as "clean beauty" is increasingly sought in both the South Korean and Australian markets.
"We expect K-beauty brands to capitalise on this consumer trend and roll out more natural ingredients focused products in Australia," he said.
Ms Lee says the three big trends to look out for this year are:
Retinol and bakuchiol ("a natural alternative to retinol").
Multi-use products (aka 'skip-care'). "These products combine the functions of several skincare steps into a single product, such as a moisturiser that has the benefits of a serum/oil/cream in one, and powder cleansers, which offer daily cleansing and can be customised to offer a mild exfoliation as well."
The 'donut skin' trend, "which involves layering hydrating products to give the skin a dewy look, like a glazed donut".
This feature was originally published in the April issue of Retail Pharmacy Assistants e-magazine.