Last month, Priceline Pharmacy showcased the latest cult-worthy products from 50 brands, including 21 exclusive brands, to more than 170 media and influencers at The Beauty Prescription [LIVE] PR tradeshow event in Sydney.
Although this was the eighth time the event has been held, it was the first such gathering hosted by Priceline Pharmacy in two years following the disruption of the pandemic and lockdowns. The team were keen to share what the business had been up to in that time.
"While Australians spent two years laying low from the pandemic, Priceline's merchandise team continued scouring the globe, albeit virtually, to remain ahead of the trends," Priceline Pharmacy General Manager Andrew Vidler said.
Pandemic trends 
Priceline Head of Marketing Gabrielle Tully, Pharmacy Operations Manager Jeyda Shiaxiates, Makeup and Hair Director Sarah Laidlaw, and Business Category Manager Cosmetics, Fragrance and Beauty Accessories Jenna Edebohls discussed how beauty trends and product sales were impacted by the pandemic and lockdowns.
They said the categories affected by people not going out included primers, foundations, makeup pad removers, sunscreens, tanning and fragrances. Even deodorant and toothbrush sales declined.
In contrast, skincare attracted a strong surge, with 72 per cent growth for facial treatments and serums during the pandemic.
"Everyone started to take really great care of their skin because they weren't wearing makeup," Ms Edebohls said. "Facial masks and peels actually saw a 30 per cent increase, and facial tools – things like the defuzzers for dermaplaning, 112 per cent growth."
There was also a surge in DIY hair and nail products as those unable to visit salons took matters into their own hands, cutting, colouring and pampering from the safety of home. 
Top picks 
Moving on to the past year, Priceline Pharmacy shared its top beauty sellers, based on retail units sales data from Jan-Dec 2021. These included:
Makeup 
Maybelline New York Lash Sensational Sky High Mascara – Blackest Black
Maybelline New York Instant Age Rewind Eraser Dark Circles – Light
Nude By Nature Natural Mineral Cover – Medium
Nail product (excluding nail polish remover and tools)
Sally Hansen Miracle Gel Top Coat
Kiss Powerflex Max Speed Nail Glue
Kiss 100 Nails Short Square
Facial skincare
The Ordinary Niacinamide Zinc
The Ordinary Hyaluronic Acid 2% B5
The Ordinary Natural Moisturizing Factors + HA
Haircare
Fudge Clean Blonde Violet Toning Shampoo
SheaMoisture Coconut & Hibiscus Curl Enhancing Smoothie
TRESemmé Hair Heat Tamer Protective Styling Spray
Fragrance
Ariana Grange Ari EDP
Jimmy Choo Blossom EDP
Katy Perry Killer Queen EDP
Beauty destination 
With Priceline Pharmacy celebrating its 40th anniversary this year, the team took the opportunity to highlight the brand as the destination for all things health and beauty.
"We've covered premium brands with the latest ingredients and features, not seen anywhere else," Mr Vidler said.
Several exclusive key launches were discussed, including those of the "top skincare brand in the UK", No7, as well as Vital Proteins, which has recently appointed actress and producer  Jennifer Anniston as Chief Creative Officer.
No7 is said to have gained a cult following thanks to its targeted approach to skincare, boasting a 100,000-person waitlist for its new products in the UK alone. Launched in Priceline at the end of 2021, the brand claims it sells products every 60 seconds in-store and online.
A founders panel featuring Craig Schweighoffer of Boost Lab, Iris Smit of The Quick Flick, and Vicki Engsall of The Jojoba Company told the audience why they believed their brands have remained firm favourites among Australians and Priceline customers.
Other brands ranged exclusively at Priceline Pharmacy and highlighted at the event included Australian Glow, Barry M, Black Leopard, Cake, Carbon Theory, Cinch, Daily Naturals, Good Dye Young, Keep It Simple Skin, Milani, Noughty, NYX Professional Makeup, ProX by Olay, Q+A Skincare, Revolution, SheaMoisture, Skin Proud, Strivectin and Tanologist.
In conversation with Priceline Pharmacy's Sarah Laidlaw and Jenna Edebohls
Retail Pharmacy Assistants caught up with Priceline Makeup and Hair Director Sarah Laidlaw and Business Category Manager Cosmetics, Fragrance and Beauty Accessories Jenna Edebohls.
How has your approach to beauty changed over the past two years or through the pandemic?
Sarah: I feel like the majority of people really noticed how quickly their skin aged during the last two years. Was it the fact that we were at home looking more closely in the mirror with too much time to take notice, or was it the stress? Either way, I became a lot more focused on my skincare regime and a lot more dedicated to clever choices of ingredients and products that really alter my skin. As I'm ageing, I'm needing far more specific skin support in place to keep everything working as well as it can.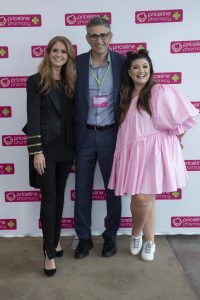 Jenna: We've seen a distinct blurring from the traditional role of beauty products into a holistic view of wellness and self-care. The purpose of a beauty product goes beyond looks, and incorporates the health, well-being and happiness of people.
What new beauty product are you most excited about?
Sarah: I'm super excited about the No7 Retinol products, especially the No7 Pure Retinol Night Repair Cream and the No7 Pure Retinol Eye Cream. The Night Repair Cream targets the seven signs of ageing, reducing the appearance of pores, pigmentation, fine lines and wrinkles and has their next-generation collagen peptide tech to really plump and hydrate. The Eye Cream transforms deep wrinkles, fine lines, crow's feet, puffiness and dark circles. Everything I've used by the No7 range is super effective and has a heap of consumer studies that support the science with results on real people. They say powerful results when used alone, transformational when used together, and I'm here for it! I can't wait for my skin to be transformed, please and thank you!
Jenna: There was a product featured at The Beauty Prescription [Live] which enables you to create a laminated brow at home. The team who brought you The Quick Flick have a game-changing product called Quick Brow 2 in 1 Sculpting Lamination Gel, which is high on my radar.
I'm also very excited to see the innovation coming from No7 with the launch of their highest concentrate retinol later in the year, which we can't wait to get our hands-on.
This feature was originally published in the May issue of Retail Pharmacy Assistants e-magazine.